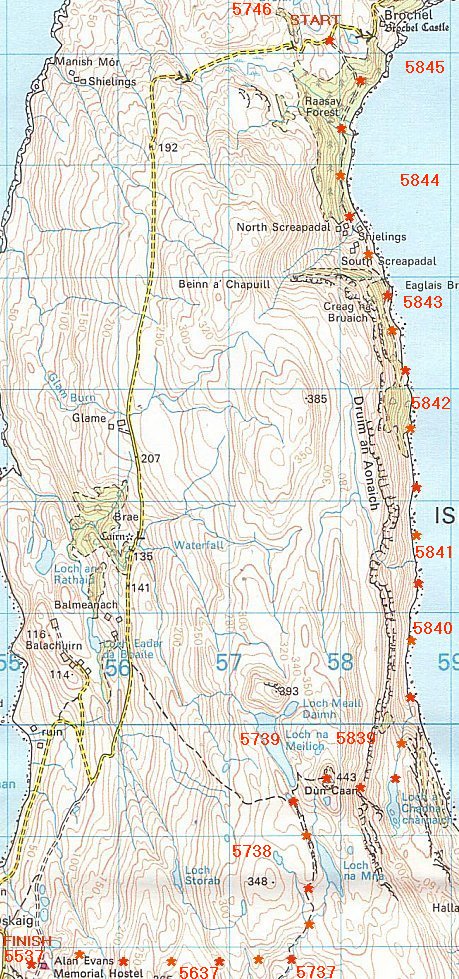 Wed 24 May 1995 From JOHN's logbook
Slept well. Woke at 7. No rain, warm & milky outside. After breakfast, Satyam drove with us to near Brochel, the start of the East Coast walk. Satyam drove our car back for us. Mike came too, the thin climber we met at Glenbrittle. The walk first goes through a dense conifer forest, but where there is light and water, the greenery of moss & trees & lichen is magic. Then we left the conifers & followed a path half way up the green slope, black clifs of basalt towering above us, boulder strewn shore beneath. We saw a seal, then saw it dive & it had a tail (an otter?). But it had a seals head. In fact both seal & otter were there, diving for food in the quietly lapping water. Bluebells, primroses, even white flowers of shamrock. Its a magic place. Across the bay we saw a naval ship (frigate) with helicopter pad at stern & a helicopter. Nearby was a submarine, tall fin & conning tower a long way forward. Nuclear attack submarine? Trident sub? We went a bit wrong, walked too far along the shoreline, jumping between huge boulders of basalt, and there was a path 20ft above. The sea is like a millpond, its become very hot & humid & still. The frigate (F91) is going in circles & across the water (at least 1 mile) we can hear its loudspeaker. 4.15pm. On top of Dun Caan. Great views in all directions. There is a wide path up to Dun Caan from the West, but we had to climb to a Lochan & then steeply up to a gulley which is narrow, steep & a bit hairy. More slogging & we reached the trig point at the top. Hot, still & misty. The steep walls of the 2 lochans to our West are a surprise. The walk across the moors to the hostel was hard. Every ridge had a valley & another ridge beyond, we cossed maybe 10 ridges before, about 6.30, we reached the hostel, tired and dehydrated. The walk has taken about 8 hours, the weather lovely, but hot & humid.. Gave myself a good wash, first for days!
Wed 24 May 1995 From ROSIE's logbook
Up at 7.15am - Slept until about 6.45am - Went into ladies lavatory for obvious and washing bottie. Went back into dorm-cum-office to wash rest when as I was drying myself, in walked Satyam!! About 9am Mike, thin fellow in shorts from Glenbrittle YH, rolled up & at about 9.30 am Mike came with us & Satyam in car to near Brochel where a foot- path starts for E.Coast through Raasay forest. Satyam drove car back. Mike did "his own thing" and John & I walked along East Coast first through forest & then along a rough coastal footpath. We were briefly rained on & then gradually weather improved & it was very warm & sunny for the rest of the day! We had a laugh 'cos we saw a seal (commonseal?) & then John says "No, its an otter!". I sez, "Don't be daft, that's a seal!" "No, its an otter!", sez he. It turned out that there were 2 animals, 1 a seal & t'other an otter. Seal just submerges to fish & otter dives to fish & you see his tail as he goes under. Later we saw 2 seals basking on submerged rocks. They looked very uncomfortable! We saw plants that were of the Oxalus family?? Wood sorrel (white flowers with pink thin stripes). In the sea, between Raasay & Applecross were a naval frigate & a nuclear? submarine. Many bluebells along coast so there must have been deciduous trees at one time there. [Moss grows everywhere in the conifer forest either side of the footpath]. Dead sheep everywhere inc. 1 in process of dying. We went wrong here, we should have turned right and up over a cliff - instead we had to rock-hop which was not very pleasant as rocks were often slippery due to being washed by dripping water from above and were covered by green plant life. Eventually we got onto the footpath by climbing up the bank. We turned up a gully and above Loch a Chadha charnaich which was on our left. Turned right up steep grassy, rocky slope & then through a dodgy bit of a gully (loose bits of rock). Onto grass, heather & rocks again (Beware of 30ft drop on righthand side of top of gully!!) to summit Dun Caan. Down official path to Loch na Meilich, which is the island's water supply [Saw 2 or 3 (Black Guillimots) black "ducks" with white side patches, in sea]. Up path to small lochan where a party of children had gathered, some swimming! They were with 2 adults & were staying at the Outdoor Centre. Water was very cold in deeper bits! John & I then went by compass + 3 cairns across the vast undulating moorland back to hostel. This comprised of ridges (where the cairns were) and gullies all the way back to hostel. We were exhausted by time we got back about 6.45pm! [On Dun Caan & other high places I have seen leaves of a lupin-type plant]. Bed about midnight.