| | | |
| --- | --- | --- |
| Updated 08 Apr 2014 | Robert's broken neck | |
<!==================================================>
In 1979 Robert Palmer broke his neck while body surfing at Maroubra beach in the Eastern suburbs of Sydney, Australia (Maroubra is listed as a national surfing reserve). Thanks to 6 weeks of expert treatment at Prince Henry Hospital, he has since worked 35 years without sick leave.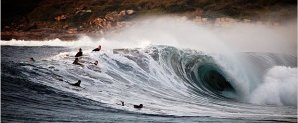 John Matheson, Consultant Neurosurgeon, Prince Henry Hospital

Prince Henry Hospital, Crutchfield tongs with a pulley and weights.

Prince Henry Hospital with wife Valerie

Robert Palmer says:
"John Matheson gave traction to my neck and head whilst I was turned over, supervised the X rays (C6 C7 is difficult to get X rays of as the shoulders are in the way), made the diagnosis, shaved my head and inserted Crutchfield tongs with a pulley and weights attached, moved me to a high dependency area, re X-rayed me after an hour or so of traction, there was no change, he then put up a Valium and pethidine drip to relieve the muscle spasm which he thought was preventing the severe subluxation reducing and hey presto it reduced. I then lay stock still for 6 weeks (the sister said I was one of the best patients she had had). When I got back to Massachusetts I showed a specialist my X rays and I had a myelogram as I was having some symptoms, but after a year it had all cleared up. I went back to work very quickly and haven't had any sick leave for 35 years."

Prince Henry Hospital, Sydney, closed in 2001, and the site has since been sold for a housing redevelopment.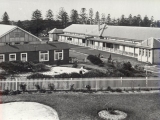 ----Anyone with more details for publication on this webpage,
please email ----


Collected, written, formatted, hyperlinked, hand-coded, and copyright © 2014, . All Rights Reserved.