| | | |
| --- | --- | --- |
| Updated 11 Oct 2012 | Huayhuash Circuit, Peru 1984 | |
<!==================================================>
Huayhuash Circuit
Peru 1984
"One of the best long distance Treks in the World"
16-camp 100 mile trek reaching 5,000 metres at Punta Cuyoc, Peru.
Above 13,000 feet for 2 weeks.
Rosie

The story of a 16-camp trekking holiday in Peru in 1984. Most of the walking, and most of the campsites, were above the 4000 m tree line, the landscape was rugged and mountainous, with views over very wide areas. We saw Spectacular glacial lakes, hot springs, snow-covered peaks, condors, llamas, alpacas and viscachas. We never saw or heard a vehicle for 20 days, tents, food and kitbags were carried by mules. The 15,000 words are taken from my battered logbooks. Scans are from 30 year old color prints. The words are only those written on trek, hot under a burning sun or cold, by candlelight, weary after a day's climbing, and shortage of oxygen.... The trek was organised by Alfred Gregory Photo Treks ("Greg" was stills photographer on the first successful 1953 Everest Expedition). See also Annapurna Circuit in Nepal. Anyone on this trek please contact me on
John

Cordillera Huayhuash from Space
Ninashanca |
5807m
Rondoy |
5879m
Jirichanca |
6094m
Yerupaja Chico |
6121m
Yerupaja |
6634m
Siuli Grande |
6344m
Sarapo |
6127m
Carnichero |
5960m
Jurau |
5674m
Trapecio |
5644m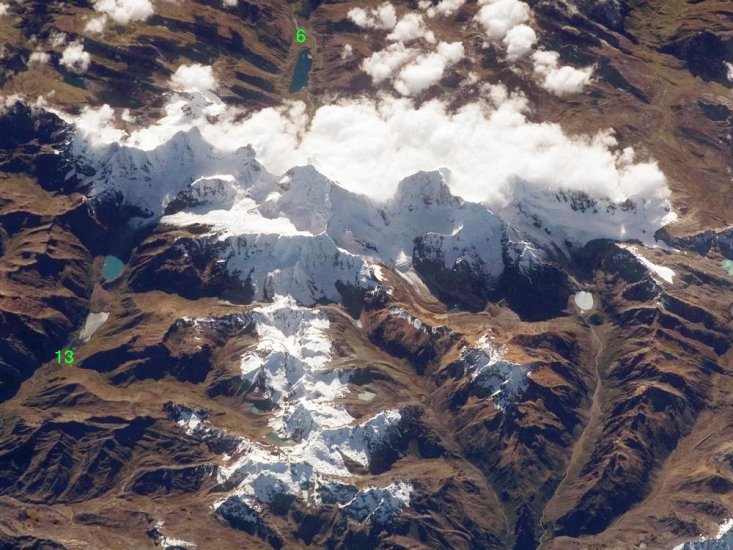 | | | | |
| --- | --- | --- | --- |
| | | | |
| Camp1 | Place123456789 | Km1 | Metres |
| | Villavicencio | 0 | 3400 |
| | Rio Quero | 10 | 2750 |
| | Llamac | 21 | 3250 |
| | Pocpa | 24 | 3450 |
| | Palica | | |
| | Quebr.Rondoy | 35 | 4000 |
| | Cacanampunta | 41 | 4700 |
| | L. Mitacocha | 49 | 4300 |
| | Punta Carhuac | 56 | 4650 |
| | L. Carhuacocha | 61 | 4100 |
| | Carnicero Pass | | 4600 |
| | Ls. Atocshaico | 70 | 4500 |
| | Huayhuash | 73 | 4350 |
| | Portachuelo P. | 78 | 4750 |
| | L. Viconga | 83 | 4500 |
| | Viconga | | 4450 |
| | Punta Cuyoc | 89 | 5000 |
| | Huanacpatay | | 4300 |
| | Rio Huallapa | 101 | 4000 |
| | Huayllapa | 106 | 3600 |
| | Huatiac | | 4300 |
| | Punta Tapush | 114 | 4800 |
| | Susucocha | | 4550 |
| | Yaucha Punta | | 4800 |
| | L.Jahuacocha | 126 | 4050 |
| | L.Solteracocha | | 4050 |
| | Trail Llamac | 131 | 3900 |
| | Pampa Llamac | 136 | 4300 |
| | Llamac | 143 | 3250 |
| | Villavicencio | 164 | 3400 |
| | | | |
CAMPS 1-16 - Huayhuash Circuit, Peru 1984 - by Jim Bartle 1981 - I carried this map in rucksac round Huayhuash!.

Trek Profile - CAMPS 4-15 - Altitude in metres - Spelling approximate - SCROLL RIGHT

Wikipedia says:
The range has become noted for trekking in the form of the Huayhuash Circuit, which is considered quite a challenge and is undoubtedly far more demanding than the famous Inca Trail in the south of Peru. Fewer people trek the Huayhuash than the nearby Cordillera Blanca. The circuit generally takes between ten and fourteen days, depending on the route taken.
Most of the walking, and most of the campsites, are above the 4000 m tree line, so the landscape appears rugged and mountainous, affording views over very wide areas. The area is noted for its spectacular glacial lakes. Hot springs can also be found in the area. Condors, llamas, alpacas and viscachas can be seen. Trekking is almost always undertaken in the dry winter months of May to September, and the cities of Huaraz and Caraz over 100 & 167 km away are the usual choice for organizing and hiring camping a/o logistical support. Chiquián was for a long time the "Gateway to the Huayhuash" but nowadays, daily buses (called locally colectivos go deep into the mountains to the village of Llamac (3300 m) and with private transport, as far as Cuartelhain camp, reached both by road built in the late 90s and 2000s, becoming now the new trail heads for starting/ending.
Alfred Gregory

Suzanne Gregory

John Jackson

Vidal

Cesare

Bob Gregson

Wyn Evans

Iris Barratt

Max Dangelmaier

Mechthild Foegeling

David Carter

SEARCH
This website is on a single
page and can easily be
searched using your
browser Find function
6511. Driving to Heathrow [text]

6527. Frankfurt Airport [text]


Broadstone - Worcester Park
Day 01 Thu 07 Jun 1984.
Left work at 1430. This week I've been working unofficial flexitime, we've been getting up at 0500 (Lillibulero and World Service) and starting at 0600. I've been testing Intermediate Range Active Tests on TAMS using the Logic Analyser to collect data and measure processing time. Got home to find Rosie Packed and ready. Sunny and warm day. Loaded the Metro. Rosie's case weighed 25kg, she phoned Lufthansa, they said no problem. Mine exactly 19 kg. Said goodbye to Jean and Taffy, who lent us an Esso map of Lima they got 20 years ago when they lived there. Set off 1600. Easy journey along Motorway or dual carriageway all the way, Rosie driving [photo]. Lots of traffic. Things got a bit hectic on the A3, knowing which turn to take. Eventually reached Aunt Joyce Rumble's house in Manor Drive, Worcester Park 1820. She cooked us a lovely meal, chatted and then we went out for a walk through riverside fields. Unloaded our gear and locked the Metro into a corner of the front garden. Got to bed about 2230 after managing to get Rosie to give up repacking.
6529. Lima in its usual pall [text]

7629. The huge bill [text]

6532. Remains of Francisco Pizzaro, Lima [text]


Heathrow - Frankfurt - San Juan - Bagota - Lima
Day 02 Fri 08 Jun 1984.
Woke up about 0430 after a good night's sleep. A sizeable dawn chorus in the very green deciduous gardens of suburbia. Our alarm clocks, set to 0500, weren't needed. Rosie got up after much protest. Taxi arrived spot on 0700, had to put my case in front seat. Nice being driven through traffic to Heathrow. Got there about 0745, taxi cost £10, just as Greg and some others arrived. David Carter, the chap we didn't see on the weekend. <!==========Rosie says===========>
Rosie writes:
" The guy Timothy has dropped out so there are 11 of us.
<!===============================> Handed our suitcases in, then went through the X-ray and loop into Departure lounge. Iris made us laugh. A week ago a bottle of weedkiller broke, bleaching her Travellers cheques and soles. She had to replace the TC's and wash and hang the soles on the line to dry! All 135,000 of them! We boarded an A300 Airbus, I got a window seat, port side, sitting with Iris, Rosie behind. We took off at 1010, climbed rapidly to 37,000 ft in sunlight. We got well fed. Cloud gathered and we landed at 1115, descending through thick cloud to a dull day. Scenery neat and clean, large coniferous woods. Bit of a race to get off plane and across to our next, transatlantic flight, but it turned out we had plenty of time. Efficient X-ray and body search system, neither my film nor camera were X-rayed but they took the lens off and peered inside. (PS. At Frankfurt airport, on top of airport building, were 3 German WW2 planes and a WW2 jet, Me262?). Greg tried to get non-smoking seats well away from smokers, but could not - he's a bit obsessive about smoking. I got an aisle seat, 37H, and we took off at 1300 in a Jumbo 747. [photo]. Its a 9 hour flight to San Juan. Very good service on Lufthansa - drinks were free - good meal of pork, mash and sauerkraut, blackbread, cheese, strawberry and cream. I sat with Rosie and Iris. She's very interesting. Quite a few Spanish speakers in the packed plane. Queue outside the Loo, I managed half hour sleep before lunch. After lunch managed about 2 hour sleep, film finished about 1800. Film was called "Educating Rita" with Michael Caine (released 1983) but I didn't watch it, so Iris and I swapped seats and I got the window seat. A baby screamed for a bit. There's just not enough room for me to get into a sleeping position. Rosie says there's lots of room in the Business class in front, but our section is packed tight. The music on the 10 audio channels available on the free headphones is good - classical, pop and easy listening. Got fed again at 2000. Excellent meal with red wine.
Frankfurt-San Juan is 4,568 miles. Our Boeing 747D has 245-404 seats.
Frankfurt-London 406 miles, Frankfurt-Delhi 3,800 miles. Lima-Bogota 1172 m,
San Juan - Bogota 1097 m. ie 3,000 miles further than Delhi.
They brought round hot face cloths as we started descending at 2150 BST. We landed 2205 with a thump after steep bank to starboard giving great view of San Juan. Line of clapped out old DC3s in aircraft graveyard. We had to leave the plane with our hand luggage and stay in the air conditioned (ie cold) Transit Lounge, like a posh prison. Back onto 747 again - same plane but different crew. I managed to get a seat next to door and toilets - room to stretch right out. Not near a window, but it will soon be dark anyway. Took off much emptier, at 2350 after usual demonstrations of where exits are, oxygen masks and life jackets. They brought round more food and drink but this time I actually refused and went to sleep. Woken when they brought round blankets. Landed Bogota 0202. Seems a large place judging by the lights of the city in the dark. Its 12C outside and 2004 local time. Don't think we'll be allowed out of the aircraft. Looks wet outside, and its night outside. The air-hostess facing me belts up with both lap and shoulder straps and faces rearwards - much safer in a crash. Why don't all passenger seats face rearwards? Yellow blouse, blue skirt, blue yellow neckerchief, medium high heel shoes. I wonder hat sort of a life they have? Had a look out of the door - its raining. My altimeter says 8,000 ft, is this correct? (Wikipedia: 8,612 ft) The girl next to me is American from Cleveland, Ohio, visiting her sister in Lima. Rosie came to lie on the 3 seats behind me. We took off (for the 4th time!) at 0322. The aircraft seems very empty now, and is darkened. I "stretched out" on 3 seats behind Rosie and slept well until woken by order to fasten seat belts because of turbulence at 0500. Lillibulero Time! Landed at Lima 0552 BST. Very slight drizzle. Rather long queue through immigration. All our luggage was together, then Rosie had panic to get to a toilet and went back through immigration, causing chaos while we waited. Eventually all OK. Piled on posh bus, handsome Luis guided us. Drove through outskirts of Lima, lots of low rectangular, tatty, small industrial sites. 2nd May Square. 8 similar buildings, French style, 1900. San Martin Square, where Avenue starts, where Hotel Crillon is. Went straight to posh room, bed about 0200, slept like a log for 4 hours.
6602. Dry cliffs at Pasamajo. [text]

6603. Desert conditions North of Lima [text]


Lima, Peru
Day 03 Sat 09 Jun 1984.
Am writing this one day in retrospect. Woke refreshed, had a shower, pressed some wrong buttons, and room service called with coffee, much to Rosie's surprise. Gathered downstairs, met Wyn Evans from Toronto here, Continental breakfast, then we went off exploring Lima, broke into groups. Rosie and I went with Iris who is rather nice. We made for Union Street, which is a long straight walkway with decent shops. The traffic comes from wrong direction, but is remarkably tolerant. The people are interesting, all the way from tall fair gringos like me to short squat dark Indians with big noses. I wish I had sat in Union Street photographing people. PS. early in the morning I got up and went for walk. The place is plagued with shoeshine boys, one of whom gave me an excellent 3-stage shine, I gave 5,000 (£1.25) but he thought it too little! Rosie and Iris and I reached Plaza de Armos and managed to get into Lima Cathedral [photo]. and saw the terribly emaciated and rather sad remains of a little man who was the great Francisco Pizarro. [photo]. All skin and bone, like a mummy. Then we went through the market by the river and railway station, another fascinating place to study people. If only we had more time. We were pushing through crowds of people surrounded by pots, pans, cheap clothes and more shoes than I've seen together in my life. People seem good natured. Then Rosie became violently hungry, so we found a restaurant just off Union Street and ate remarkably well. I had beefsteak and chips, finished off Iris' very tasty soup and some of Rosie's meal too. Back to Hotel and packed ready for early departure tomorrow. Then we all had our first drink of Pisco, the Peruvian spirit, while waiting for Rosie. Its very tasty and very strong, and a lot of us got a bit drunk. Staggered off to the "Restaurant 1900" and had meal and drinks while being serenaded by trained singer dressed in traditional Inca clothes and disc-shaped hat, a trained high soprano according to Rosie, sounded like Yma Sumac to me. Sang theme tune from Flight of the Condor several times, which in my drunken state sounded terrific. When the reckoning came, we owed 35,000 soles each. [photo]. Very embarrassing, I had to borrow 60,000 from Max which I had to get from the hotel strong box. Eventually staggered into bed about 2300 feeling a bit shattered.
6615. Road at Conococha 4,000m [text]

6627. Chiquian main street [text]


Lima - Pativilca - Chiquian
Day 04 Sun 10 Jun 1984.
Up at 0500, Rosie not well with Fred as usual. Dark outside, got everything ready. Breakfast, first Diamox, set off in posh bus at 0800. [photo]. Outskirts of Lima rundown, seedy, bare earth, lots of young eucalyptus trees planted. River with earth banks, must cause chaos when it floods. We can guess a lot of the signposts and adverts, Spanish probably easy to learn. 6 million in Lima, 20 million in Peru. 100% cloud above. Graffiti - probably political. Adverts with sultry white, blonde females. Little markets, unsightly power cables and pylons. Dust on trees. No grass Many buildings only half-built - save on rates? Out of Lima 0817, fields with bananas, some kind of fruit tree. Steep bare earth hills on our left. Red oleanders in a garden. Huge pictures painted on hillsides! Lots of eucalyptus - they don't need much water. Puente Piedro 0825. Lovely red bourgainvilias. Lines of steep hills to the road edge, not a blade of grass - sand - dust - earth all bare. 0837. Stopped at Garita de Control, some kind of police check post. 0842. The sea and Ancoia. Now driving along corniche, earth cliffs and sea on left, steep sand hills next to road on right. Stopped for 5 mins for photos. Grey mist, warm, road half way down huge sand cliff plunging down to sea. Line of pelicans flying just above water. Tiny guano islands just off coast. Pasamajo is where we stopped. [photo]. <!==========Rosie says===========>
Rosie writes:
" Islands scattered out to sea where birds breed somehow in still desert conditions - eg pelicans which we saw flying low over the sea. We stopped for picture-taking overlooking sand in all directions on quite starkly attractive sea cliffs.
<!===============================> Fields of Indian corn now. Back onto main highway again. This really is the Atacama Desert. Chancay 0920. Lot of large wall slogans - Presidential elections in '85? Bermudez, Morales. Field of tapioca? No rain falls on this desert, all agriculture is by irrigation from the Andes watershed. 0957 now driving through flat sandy desert, sea in distance on left. The sun has come out, still misty. They have sea salt pans near here says Sue (PS: she's been telling us about their Galapagos trip in June - sounds great). Now a great desert landscape, stones, gravel and sand and sun, each side of our arrow straight road. Loneliness. "Great God but this is an awful place". 1017 entered a large sprawling shanty town. Cruz Blanca. Then Churua. Had a diamox stop (ie for a pee) in a thick and high field of sugarcane. I came out with trouserlegs and socks covered with burrs, took me 30 minutes to pick 100 prickly little buggers off. Scenery now like Mexico, desert, sun, shanty shacks by road, white painted houses, roaming dogs, peasants. Long line of Pacific surf to left. Dense fields of sugar cane each side, high with "flower" at top. Lorries loaded high with cane on the road. Vulture gliding overhead. Occasional high bamboo clumps. Almost every shack has its tall TV arial. People laying the dust with water. Barren hills beyond. Now a port with fishing boats. 191 km from Lima. Orange flowers of Chile pepper field. Hibiscus. Cotton plants? 1115, crossed big river which comes down from the Huayhuash. More high sugar cane. Pativilca, here we head inland towards the Andes. Steep foothills on our right. 207 kms from Lima. 1124 . Acres of sugarcane, a fine sight when mature. Becoming more rural. Avocados by road, maize laid out to dry, old ladies in big hats, little wayside shrines. Locals squat, fat, brown and ugly. Barren foothills rise very steeply from our valley, both sides. Orchard of Mangos? Making sun-dried mud bricks for house building. Can't rain much here! Little homes made of sticks and mud, maize heads drying, real peasants. Valley closing in, sides quite spectacular now, still completely bare. Saw first cactus. 1200. 1,500 ft. Now lots of stick-like cactus sprouting from the bare hillside! March '83 El Nino caused heavy rainfall high in hills, and parts of this road were washed away, but it has now been well repaired. Stopped for a meal at El Paraiso restaurant. Had soup, bread and chicken, all a bit ropey, the best being something that tasted just like potato but looked like a giant parsnip. Assorted kids came to watch us feed and we photographed them afterwards. 51 kms from junction, left at 1310. 4,000 ft, valley narrower and bumpier all the time. This is a very well graded road. 1327, 5000 ft, our bus is going quite fast too. The hills around are now covered with some kind of straggly shrub. Vultures still glide above. 1336, 6,200 ft and climbing steeply with hairpins now. Past a cliff with vertical flutes like Giants Causeway. Basalt? Now getting cloudy and cooler. Quite a lot of grass around. Raquia. 6,700 ft, still very good road. Eucalyptus, large gourd hanging from tree. Broad leaved cactus. [photo] Rosie saw a turkey. Older women short, stooped, long skirts, large hats. Lot of donkies. 1358, 8,500 ft, slight rain. Valley sides green. Spectacular views down. This is a very fine road. Sue says it was much improved by World grants after a recent big earthquake, and it supplies a large area of resources. Its an old Inca road, and Peru is unique in having these. 1410, 10,000 ft. Not much traffic, we pass the occasional lorry. Apparently no air service to Huarez now, not commercially viable any more. Mayoraca. Top of hills around appear to be volcanic plugs. Lots of blue lupins growing by roadside. 1426, 12,000 ft. Slight rain. Getting cold. 1435, 13,000 ft. Near the summit which is supposed to be 4,100 metres. Conococha. [photo]. Here we stopped for 15 minutes and chatted to locals, a real language barrier, they were pleasant but they didn't want us to take their photo. 1500 set off 18 miles very bumpy to Chiquian. Now in flat plain, grassy and bogs, bit like Scotland. Sheep, dull grey, open moors, women herders in ponchos and wide brimmed white hats. Small thatched farms. 1529, 13,500 ft and going down. The descent to Chiquian was fantastic. Flowering shrubs everywhere. Track only as wide as the coach, and hairpins all the way. A great Indian driver. Eventually the roofs of Chiquian [photo]. appeared below, quite a sizeable and very attractive town. We got established in Room 3 of Hostel San Miguel, on first floor facing an inner compound of fuchsias and other flowering plants. After the coach had unloaded and left to park elsewhere, we strolled along the straight streets, [photo] with high pavements and overhanging roofs, all men wear brown ponchos and hats, women coloured ponchos. Lots of kids but none speak English. Pity. We went to a Restaurant for a tea, then at 1900 went for a main meal consisting of lovely new potatoes, soup, chips and meat and beer. I was full and couldn't finish. Slight rain most of the time, got back about 2100. Felt no effect of Diamox, no tingling. Bed at 2115.

Chiquian - Villavicencio
Day 05 Mon 11 Jun 1984.
Slept like a log till 0300, then snoozed. It suddenly gets light about 0545, making a 12 hour night. Went down and had a real good crap. Felt no effects of altitude yet. Weather high broken cloud. Looked up Spanish names for animals in my photo album, then went and sat at end of main street, observing. Everybody wears ponchos and broad brimmed hats, men in trousers, women in skirts usually brightly coloured, black hair often long and plaited. The women have broad hips and are squat. Altimeter shows 11,000 ft. Went to the El Viatero restaurant again and had a good breakfast of bread, jam, tea, and fried eggs. Started off just ahead of the donkeys and walked down the track to the river 1,500 ft below us at 9,500 ft. This was an easy downhill stroll, took us 3 hours, the sun came out and gave us magnificent views of snow covered peaks both up and down river. It was like strolling through the hot house at Kew, each side of the track was covered with all sorts of cactus, flowering shrubs and insects. A beautiful experience. Unfortunately, 45 mins out of Chiquien, Greg twisted his right knee on a boulder and I think the patella came loose. It hurts a lot, and he won't be able to walk for a bit, but is riding like Lady Godiva on a white horse. Wyn gave his opinion as a pathologist. At the bridge over the cold torrent, we ate our lunch packs, and I made friends with a lot of charming kids, amused as usual by pictures and the snake. Eventually (1400) Greg and the donkeys arrived and we are going to camp here by the side of the torrent and bridge and just below the village of Villavicencio Pitched camp. Nice site. Mekki and I climbed up to the village, 10 minutes, where we were given firewater like vodka out of an Inca Cola bottle and invited to the Fiesta tonight. They have a huge harp and are letting off rockets which explode. We said OK and descended for a good meal of soup, staek and potatoes (fried). As we were eating it started raining, after being almost clodless with a full moon. Earlier we had met a Chamonix guide who had to return to Chiquian to be stitched up after being hit by a falling lump of ice. He was walking back through the night to join up with a French party making a traverse in the Huayhuash. Mekki, Max, Rosie and I went up to the village when the rain stopped, the orchestra consisted of the giant harp, muted trumpet and violin. [photo] First their men wanted to dance with our girls, all done in a small room by candlelight. Max and I danced with 2 of their women. They are very good natured, but not speaking Spanish is a big handicap. Got to bed about 2200. Woke at 0300 and slept again, dreaming of strange things till 0600.
Camp 01 - Villavicencio


Villavicencio - Llamac
Day 06 Tue 12 Jun 1984.
Woke to a cloudless sky, lot of condensation. Tea came round at 0600. All seem OK except Wyn who has a funny tummy. Greg has his leg strapped up and manages somehow with 2 sticks. Started walking 0800. Long rocky track among dense and lovely cactus and shrub vegetation [photo] following rushing torrent between towering scrub covered mountain walls. Lovely little flowers, epiphytes, beetles, little birds, all different and unknown to me. [photo] <!==========Rosie says===========>
Rosie writes:
" We think we saw a condor, and parrots squawking in flocks. There are numerous single black birds that look a bit like large blackbirds, but smaller than rooks. Saw various small birds, singly - no snakes. Many bright coloured flowers and shrubs and cacti. Mostly dry underfoot. "
<!===============================> And all the time under a cloudless sky and boiling sun. Stopped at the top of a particularly long haul at 1213. Continued on through more lovely scenery, came across a local woman who said (through Mekki) we would get to Llamac by 1330. Eventually the 4 leaders, Bob, JCP, Mekki and Max stopped on other side of a little wood and earth bridge. A few clouds now 1340. We had our lunch stop here. Left at 1440 and got into Llamac, first at 1505 knackered. Stopped outside the first hostelry, and as the others rolled up we decided to have a beer here and wait for the others, who may be a long time and very tired. Pocpa is 2 hours away and it will be dark before the whole party gets here. Also there is a mystery about our burros, which we had not seen when we left Camp 1. Its possible they have been stolen by people returning late from the Fiesta. At 1605 the rest of the party rolled up, everybody OK except for Wyn, who has a little dysentry and Dave, who is still a bit deaf from his cold. We all had beers and cokes, and then, lo and behold, all the burros arrived with all the gear! Tremendous!! Cesar found us a field at the other end of the town. We pitched the tents [photo] just as dusk fell at about 1830. Finished a good meal of soup, beans, chips and steak, and pineapple at 2100. Also Bob's treat of a rough biscuit each with our personal name on. One way from mes to own tents we could see Southern Cross just over summit of mountain, lovely, also full moon and little cloud. Its 42°F now.
Camp 02 - Llamac


Llamac - Pocpa - Palica
Day 07 Wed 13 Jun 1984.
Woke at 0530 after good night's sleep. Bright full moon, just setting, and almost clear sky made it seem like dawn already, which came at 0600, with tea. Had good crap. Some dark clouds in East, over peaks. Reached 36°F last night. 10,600 ft here. 0800 finished good breakfast. Bits of high cloud, won't be as hot as yesterday. Reached Pocpa after puffing uphill walk through the usual lovely vegetated gorge scenery at 0905. Greg was there on his horse, had a coke and climbed up into the village to see children. [photo] High cloud and blue sky. Lovely, dirty isolated village, interesting people.Children are dirty, matted hair, candles from noses, smelly, dressed in bright but ancient clothes, T-shirts. Left Pocpa about 1005, climbed steadily again through lovely vegetation and scenery, which became a puff with altitude. Greg's horse and the locals shot past us, but Bob and I could only keep a slow steady pace up the climb until, at 1210, we suddenly reached the top to be presented with a wide flat green pampa between spectacular mountain walls, with a snowy peak, Jirishankar 20,000 ft, peeping over the top. This is a lovely spot, and gradually the whole party turned up. Wyn still feeling a bit rough. This place is Palica I think. Just seen a heron-like bird, with bright yellow legs and a white wispy feather sticking out of the back of its head along its back. Big bird when it flies, landed in a tree. Suddenly we got chased off our sleeping place by the sudden appearance of an angry bull ("Toro Bravo" the arriero called it). Everybody ran and hid. From half way up the hillside (!) we can see another snow peak, possibly Yerupaja (21,765 ft). A whole lot of cows turned up and they have taken over our eating spot. We then moved to the other end of this beautiful flat meadow (pampa) and are now (1600) camped by the side of a bubbling stream, [photo] among lots of low grass-like greenery and lovely white flowers, low like gentians. <!==========Rosie says===========>
Rosie writes:
" I saw in morning 2 humming birds, a brown one and a bottle-green iridescent one, also a bright yellow and brown bird, one with orange and brown colouring, martin-type birds and a flock of black ibis on the Pampa. I have also seen dandelions and speedwell. There was also a heron on the pampa and a plover. "
<!===============================> Some of us have had a good wash, it may be the last chance. I had a wash all over and shampoo. There's a cold wind blowing up the vally, and the temperature is dropping rapidly. Beautiful display of Southern Cross. The meal wasn't ready till 2000, I slept a bit, and Bob in the next tent snored! When it was ready, we all turned up except Sue who wasn't well. Wyn wasn't well either and Mekkie had a headache and cough, and Dave a cough. The rest of us had good appetites, I swallowed a good meal of soup x 2, hash, blackcurrent jelly x 2. Excellent. Bed 2114. Bit cloudy.
Camp 03 - Palica


Palica - Quebrada Rondoy
Day 08 Thu 14 Jun 1984.
Woke quite often, went back to sleep, finally looked out at 0430. Cloudy so no frost. Went back to sleep again. Up at 0630 for a crap in a nearby hillock covered with wild flowers of all colours and a lot of thorns. Have a slight headache, may be due to overheating last night, I slept in thick shirt, sweater, trousers and socks. Wroiting this at 0718. Tea is at 0800. Curlews (sort of) round here. Heard some kind of geese honking in the night. Arriero is collecting the mules. The cloud seems to be breaking, bit of sun. The tops of the valley sides are vegetated, 14,000 ft I guess. 0721 sun hits camp. Cool breeze blowing down valley, but not cold. Had reasonable breakfast, started walking at 0945 up the valley again. The cloud ahead came and went. Quebrada Rondoy, 13,200 ft = 4,000 m. I chatted to some kids who waded across the Rio Llamac to see me. West of us are some bare peaks covered in red scree., to the South a high snow-covered peak. We had 1.5 hours rest here, then continued up the easily graded valley to camp site 4, which we reached at 1332. My altimeter says 13,400 but we're probably at 13,800 ft. [photo] <!==========Rosie says===========>
Rosie writes:
" A few hovels, made of stones and thatched roofs which house farming families, cattle and sheep. "
<!===============================> We camped at a little plateau, where we turn right, away from the main Rio Llamac valley, and tomorrow we shall head up a steep gorge to the Pass at 4,700 m 15,412 ft, a gain in altitude of about 1,600 ft. Greg says it will be a hard day since we are not acclimatized. I am feeling rather cold and have retreated into the tent, but Rosie is outside in her duvet, with the 3 little girls, Marita (11), Erica (6) and Amerino(5), if I have remembered and understood correctly. [photo] They are rather sweet, and I have given them a balloon (lobo) and showed them my photos. They banged the plate about 2000 and we shot off for a good meal of soup, 3 great fatless chunks of meat that beat me, some kind of custard. Max's treat of chocolate biscuits and Pisco Puro, very strong and very good. Only 40°F.
Camp 04 - Quebrada Rondoy
6819. Near Cacanam Punta 4690m [text]

6823. Kids in ponchos [text]


Quebrada Ronday - Mitucocha
Day 09 Fri 15 Jun 1984.
Woke up at 0130 for a pee out of the door and was also sick - it was that meat last night. Woke up again at 0530 for a pee, put my clothes on, staggered off 100 yards across the puna, was promptly sick until I had emptied my stomach of its contents, then I just reached a flat rock in time to empty a lot of my bowel too. Feeling considerably better, I staggered back to the tent where Rosie gave me her water, Bless her, I was terribly dehydrated. A local dog ate up the first sick outside the tent! Apparently she'd been kept awake by dogs barking all night. Went down to 30°F last night, some hoar frost. Couldn't face any breakfast - neither could Wyn. We started off 0800, and I was sick almost immediately, losing all the water I had just drunk. John Jackson stayed with me and set a very slow pace, I felt as weak as a kitten but no headache. A few hundred feet below the summit, [Cacananpunta 15,387 ft] Sue actually came down to take my rucksack! I got to the top at 1045, in front of Wyn on the second horse, both of which seemed more nackered than me. We had a rest the other side just below the summit, then set off again, heading up the valley towards Jirishanca [19,993 ft] and its group of magnificent snow-covered peaks up to 20,000 ft. Unfortunately they were covered in cloud. Eventually reached camp 5, after some discussion about which side of the river. The mules had continued on towards the Laguna, but had to be brought back because the Laguna is surrounded by bogs, not suitable for camping. Got to Camp 5 [14,100 ft] at 1405 and camped within some cattle dry stone circles, very handy. <!==========Rosie says===========>
Rosie writes:
" We think we saw 3 condors together. Also 2 black and white geese. Many crocuses, gentians and anemones in flower. There are some geese flying home to roost towards the large laguna and bog. "
<!===============================> I was very tired, but Rosie rushed around, mended my rucksack. I managed to eat a bit of dinner, and went to bed early.
Camp 05 - Matacancha

6827. Loaded mule [text]

6930. Jirishanca 6094 metres [text]


Mitucocha - Punta Carhuac 4650m - Carhuaccocha
Day 10 Sat 16 Jun 1984.
Looked out at 0430 and cloudy. Looked out again at 0540 and clear sky with magnificent view of Jirishanca twin peaks and camp site. Took several photos, [photo] until it finally disappeared behind cloud. Had breakfast of jelly and porridge. Set off at 0900. Felt tremendously much better than yesterday. Kept up with the horse till we stopped for a rest at 1011. The going was very easy, walking on pampas all the way with easy way. Vidal, the 67 year old leader of the arrieros, calls the pass ahead "Yana-Yana", but Jim Bartle's book calls it Carhuac. <!==========Rosie says===========>
Rosie writes:
" There were some beautuful orange-red alpine flowers below the summit. Visquachias are playing in the rocks near where we are sitting. They look like a cross between a squirrel and a rabbit. Saw a flock of black and white Andean geese by a boggy area. "
<!===============================> Reached the summit [Punta Carhuac 15,256 ft] about 1100, then came down, easy going, for a lunch stop at 1130. Viscachya were plentiful among the rocks, like rabbits with squirrel tails. The great mountain in front of us, with large glacier and icefall, was almost all covered in cloud, but we saw a sizeable avalanche through a gully. Reached the view above Laguna Carhuacocha at 1330, with the usual 3 children, above us (hidden in cloud unfortunately) Yerupaja 6634m, Yerupaja Chico 6121m and Jirishanca 6094m. Sauntered down to Camp 6 on the bluff above the Laguna and pitched our tents at about 1430 We may stay here for 2 days. It is a beautiful spot when the cloud clears. Got cold later and we all retreated to our tents. Dinner at 1930, announced by banging of plate. Soup, cold mince of fish, onions and something else and lovely mangoes in juice. Bed about 2100.
Camp 06 - Carhuacocha

6931. Yerupaja Chico 6121m [text]

6932. Yerupaja 6634m [text]


Laguna Carhuacocha
Day 11 Sun 17 Jun 1984.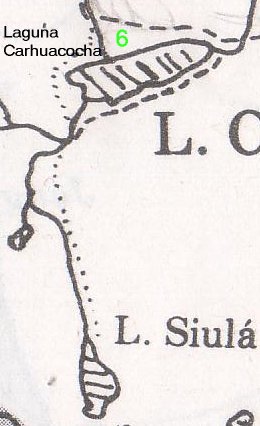 Woken in night by rain twice. Got up at 0600. Mountains 50% covered by cloud. Walked down the little valley for a good quick crap. Saw plenty of geese. largely white, honking, also two large birds with only tail white, rest black. Laguna Carhuacocha is held in by very large terminal and lateral moraines. There must have been a very big glacier in this valley once. Its beautifully quiet here, apart from distant streams and bird calls. Set off with Bob and Rosie, the rest of the party had a rest day and stayed around Camp. We circumnavigated the Laguna, visiting the upper lake in the cirque below El Toro. We continued round, leaving about 0900 and just as we reached a little hut, the rain came down and we were invited in by a hospitable man and his wife. They lived in a hut made of very thick mud walls and new corrugated iron. They had 10 children! Inside was a table, 3 chairs, sheep fleeces stored above the ceiling, maize cobs hanging from the ceiling. They showed us a little photo album of excellent photos taken by a Swiss climbing group, who subsequently must have posted them. Before meeting the family we came across large white-faced coot, flocks of black ibis, geese with 80% white plumage. Then it cleared and we climbed slowly and with much effort to the small lake in the corrie at the snout of the glacier tumbling down from El Toro 15,421 ft. A lovely place, with a swift-like bird zooming over the water catching some insect. Very peaceful, quiet, high, with the three massive peaks climbing into the clouds above us. Here we had our packed lunches, regailed by Bob's stories. Set off again about 1300 and contoured round till we had the most superb view down onto the beautiful terminal and lateral moraines below another mountain (Siula) and glacier forming a symmetrical "arena" with a very small lake inside. We descended again, and met a group of locals fishing for trout. [photo] Later Cesar joined up with us and we followed the lake shore round to the exit stream, which proved difficult to cross. We had to take our boots, socks and trousers off and wade across, rather cold. Got back to camp after a fabulous day about 1630, just in time for tea. <!==========Rosie says===========>
Rosie writes:
" I went, like Gunga Din to fill up our Sigg bottles and on the way I saw a glow-worm on a rock, it was dark by then. It looked like a thin maggot with light on tail. "
<!===============================> Dinner call at 1930. We had soup, 2 trout (!- very good) and mixed fruit with Pisco and Wyn's treat of assorted biscuits. Bed about 2130.
6933. Siula Grande 6344m [text]

6937. Crossing river dryshod [text]


Lake Siuli
Day 12 Mon 18 Jun 1984.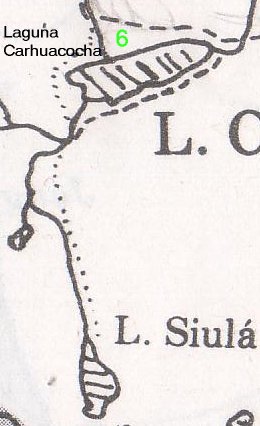 Another lovely day. After breakfast, we left camp and walked down to the outfall. Forgot to mention - I woke up at 0430, cloudless night, half moon, stars, woke Bob and we walked down to end of Laguna, taking photos of the mountains [photo] [photo] [photo] [photo] as the sun came up, and some cloud gradually developed. Lovely. To continue - the group crossed the river on horseback, led by an arriero on another horse, [photo] one by one. JCP took off his trousers and socks and boots and waded across. We continued along the South side of Laguna towards the "amphitheatre" Lake Siuli we had seen yesterday. Most of party camped in warm sunshine on grassy patch to one side, while Jacko, Sue, JCP, Bob, Iris and Rosie climbed to the top of the moraine wall, which incidentally was covered with tiny flowers of all kinds and some flowering cactus. At the top we were rewarded with a great view of the small lake, ice 80-100 feet deep covered with rock debris and surrounding magnificent peaks and icefalls. Kept hearing and sometimes seeing the occasional avalanche high up. Climbed down again and had our packed lunch, then made our way back to the outfall. This time, Rosie, Iris, Bob, and JCP waded across. Lovely sunshine most of the time, though some big convection clouds. As we were having our tea, it rained a little. Went for a climb and a crap, from where I could see a couple of French tents well behind the end of the Laguna. Had a kip, went into the mess tent with Rosie and wrote some cards. Filling meal of soup, mutton and beans, rice pudding and John's treat of Welsh Fudge. Bed 2100

Carhuacocha - Carnicero Pass 4600m - Huayhuash
Day 13 Tue 19 Jun 1984.
Woke after a good 9 hours sleep, dreaming I was shopping at Foyles and had left some clothes there. Just got sleeping-bag stuffed, kitbag and rucksac packed and self dressed before the tea came round at 0600, brought by Cesar and an arriero. Quite a bit of cloud but getting higher. Had very dry throat after no clearing for 9 hours at this altitude (13,500 ft). Had breakfast of thick trout soup or stew (which I didn't touch), bread, jam and porridge. Day rapidly clearing into lovely weather. Set off about 0900. Goodbye Camp 6. We crossed the Laguna outfall a bit lower down, I decided on horseback this time, last by general acclamation, and caused great hilarity by leaping into saddle and falling flat on other side. We climbed the Carnicero Pass [15,127 ft], stopping for a rest at 1022, where we saw 4 vicuna on the other side of the valley. Later saw 3 more vicuna, but they may have been same ones, from much closer. They are rather nice like ponies with long necks. Had our lunch stop just below the pass at 1200. [photo] Its an easy walk turned into a slog by the altitude. The Pass turned into a bit of a swine, with new "ups" after what you think must be the last one. A superb succession of peaks on the right, stretching into the distance, the closest and largest being the Nevada Serapo [20,101 ft] with a great icefall. The Andes are much better than the Himalayas for photographs because the terrain is concave not convex, and the snow-covered peaks stand up unhidden from Trekking heights of 13-14,000 ft. Eventually we saw below us Huayhuash, consisting of about 3 sheep rings and 2 cattle shelters, in the middle of a great emptiness surrounded by snow-covered peaks. <!==========Rosie says===========>
Rosie writes:
" There were quite a few peat bogs on the way up. Peat bogs contain islands of this prickly "moss" + saxifrage looking mounds which are outside of the peat bogs. Both mounds make excellent 'stepping stones' "
<!===============================> We made our way down, and reached the mules and the arrieros (who had passed us near the summit) about 1540. For the last 2 hours we had been following a trail of blood splashes, and near the tents we saw the mule which had a damaged right cheek, perhaps kicked by another donkey. It was squatted down, and when I saw it a continuous spurt of blood was coming from its cheek. Its owner, Vidal, didn't seem particularly worried and was prepared to let it die. Wyn and Iris suggested we staunch the flow of blood with a pad and rope [photo] and later give it as much water as possible. I said it should be moved into a shelter and covered with blankets, we are 14,000 ft here and it will be very cold tonight. Apparently an arriero's horse died last night. Tea at 1730, followed by very cold 2 hour wait for dinner at 1930, [photo] but it was worth it. Excellent soup (onion?, asparagus?), spaghetti and sausages, pineapple, and Max's treat of tinned Camembert on crackers. All excellent. Chatted a bit in the dark as the hurricane lamp went out, then bed at 2100
Camp 07 - Huayhuash


Huayhuash - Portachuela Pass 4750m - Laguna Viconga
Day 14 Wed 20 Jun 1984.
Looked out at 0530 and 100% cloudy, but rapidly became cloudless, tea at 0600, breakfast at 0700, off at 0800. [photo] Started climbing almost immediately, and reached the top at 1000 with Bob. [photo] We heard Max's cough just before he came over the top. We saw a photo-recce Canberra bomber fly over. We descended to the Viconga Lake which is also dammed to produce a head of water. We stopped here for lunch at 1200, then continued turning fairly sharp right up another valley, but camped not too far up, perhaps because the arrieros were in front of us and didn't want too cold a night. <!==========Rosie says===========>
Rosie writes:
" Had to put up our own tents because the arrieros had gone 'on strike'. We are at 4,600m "
<!===============================> Pitched tent in windy conditions, had tea, then a very interesting talk with John Jackson, who recommended the books listed at the back. He is a quiet, modest, very likeable bloke who has really done a lot in his 63 years
1913-2010
See Alfred Gregory
"he's a bit obsessive about smoking."
"Greg twisted his right knee on a boulder and I think the patella came loose. It hurts a lot, and he won't be able to walk for a bit, but is riding like Lady Godiva on a white horse."
"Greg has his leg strapped up and manages somehow with 2 sticks."

Alfred Gregory, taken 2004.

John Jackson, taken 1990.

1921-2005
See John Jackson
"....interesting talk with John Jackson, who recommended the books listed at the back. He is a quiet, modest, very likeable bloke who has really done a lot in his 63 years."
Dinner at 1930, smokers last as usual, its getting very cold so we all cleared off to bed at 2040.
7125. Rosie on Punta Cuyoc [text]

7130. "Dead sheep" cactus [text]


Laguna Viconga - Punta Cuyoc 5025m - Huahacpatay
Day 15 Thu 21 Jun 1984.
Up at 0530 after a good night's sleep broken only by the necessity to wet my throat from strategically placed water bottle. It only got down to 25°F last night. Got packed and out before 0600, wandered down valley and found an excellent place for a crap. Had an excellent crap, then lifted an immense rock and covered the results. Then went and filled water bottle again and put 2 steratabs in. Its much easier going downhill than uphill, even on a slight slope like this valley. Hoar frost on ground, and a lot of the marsh is frozen. Set off at 0800. Very cold, hoar frost on ground, clear sky, but only reached 25°F last night. Slow steady slog. We saw 5 llamas just before we started. Like large less refined versions of vicuna. We had rest at 0930, a mountain snow covered top called "The Sleeping Lion" seemed very close. Then on again, a steady climb for an hour to a nice summit, just above vegetation level on this side. Great snow slabs on right of the Sleeping Lion. A long way below, a flat green pasture, [photo] otherwise apparent desert on the other side, with a strong cold wind blowing from there. [photo] Just beyond summit, some large wind-carved sandstone sculpture. We stayed at the top for some time, then scrambled down steep but easy loose surface to flat pasture, where we had lunch break at 1200 to 1300. Could see the mules descending in the distance. Continued along a magnificent glacial valley, which was U-shaped, showed roches moutonees, plucked dykes, and curved slightly to right all time, flat but sudden changes of height over sill 3 or 4 times. It had a milky glacial stream. It was a long tiring walk before we caught up with the burros about 1515, and erected the tents. Weather still good. The main stream is glacial and full of debris, so I walked a couple of hundred yards up to a clear tributary to fill water bottles. Tea at 1700, dinner at 1930, usual long cold wait, but excellent soup, pork and chips and pineapple and Sue's treat of Black Forest Liqueur. Talked about Hotels in Kathmandu till bed at 2100. Beautiful starry sky, more of constellations familiar except Southern Cross and Castor and Pollux possibly
Camp 09 - Huahacpatay


Huahacpatay - Huayllapa
Day 16 Fri 22 Jun 1984.
0651. We have an extra hour in bed because its a short day today. Cloudy when I looked out, but rapidly clearing. Horses (2) are hobbled, two front feet tied. An arriero in brown poncho on horseback is collecting the burros that have been allowed to stray across this great valley, U-shaped, but steep sides. Magnificent peaks at Eastern end. Low grass with hoar frost here. Higher up sides, scree, almost sand, with clumps of "thatching grass". All arrieros dressed same, dark shoes, trousers, shirt covered by brown poncho, wide brimmed hat set slightly askew. After tea arrived, climbed about ¼-way up side of valley to get a little bird's-eye view of valley floor. Valley side is covered with great clumps of coarse "thatching grass" which makes a good hand hold. Lot of loose scree and breathless climbing at this altitude. There are 2 large drumlins just up valley from our camp, some eskers lower down. About 400 yards higher up 2 sheep circle walls are full of about 100 sheep with 4 black ones. A thatched stone wall dwelling attaches, and the ever watchful cur barks at all intruders. The milky glacial stream meanders its way along the valley bottom, a pale reminder of the once mighty glacier. John J has just come out for a crap, in my full view, but too far away for detail! Good job I forgot to bring fieldglasses. Good breakfast at 0900. Then we set off down the beautiful valley, very easy walking down the flat, grass covered floor. John Jackson fell into the river while crossing it, saturating his jacket and his camera. Eventually our magnificent valley met another, lower valley coming in from the right. We turned right slightly into this new valley and then started a steep descent, zig-zagging through lovely scrub covered in blue lupins, red flowers, white flowers, yellow flowers. Reached the floor of the new valley about 1100 and waited for the rest of the party to catch up. Then we continued along the side of the main river, crossing occasionally, a lovely route, but it turned out to be a long way to Huayllapa. I had run out of film early in the morning, and had not loaded my rucksac with unused film as usual, but used film, so I missed photographing this section. Eventually Bob and I got into the village [Huayllapa 14,107 ft] just in front of Greg, horse and Vidal. We had a beer each in a hostelry, and after much negotiation decided to sleep together in the room above the hostelry, with mess and cook tents in the back garden. [photo] This will be safer, because tomorrow a 7-day festival of San Juan begins. Visiting football teams are coming in, there will be much drunkenness and a security problem. About 1500 it started to rain, stopped, then started again about 1800. I got shown round the local school by a French priest dressed in a poncho, who introduced me to the "professor" a teacher. Later he met the rest of the party. The village is very dirty, but some of the younger women are brightly dressed, and in sun and with time and patience good shots of the locals and kids can be obtained. The school is putting on a series of cameos at the village hall from 1900 till 2200, this will clash with our meal so I don't know what we will do. Glad we are in a room now as raining even though its corrugated and so makes a noise. Had not a very good meal at 1900, then a group of us left for the village hall about 1945. A lot of locals were peering through the entrance, and the place was fairly full. At first they charged us 2,000 soles each but this was reduced by negotiation, after we had walked out, to 500 each (1 beer = 3,000). Inside, there was much noise, on and off stage. All the ladies, in their white broad brimmed hats, were against the right wall, and the gents, in brown ponchos and dark broad brimmed hats, against the left wall. In the middle were seated mothers with kids. Chairs and benches were eventually found for us. Someone was told earlier that the show started "7 o'clock Peruvian Time". It started 2022! The stage was packed with kids and order was kept by the master of ceremonies, the vital person, the Professor of the school who I had seen earlier and his assistant the Alumnus. They introduced the acts one by one, drawing a curtain across the stage in between. Professionally they were pathetic, the whole charm was the amateurism and the oblivious way people turned their back on the audience, wandered across stage, waved arms and spoke inaudibly, got stage fright, all with the fervour and support of the audience. The one or two adult acts, dancing, were much better, and brought suggestive roars from the audience. The males, boys and men, were ordinarily dressed, but some of the little girls had beautiful skirts and shoulder-covers all in glowing colours and beautifully embroidered. The huge Welsh Harp - a large harp with sound box - was brought in about 2100 to help proceedings. The rest of the group left about 2100, but Bob and I stayed on till 2145. Straight to bed and we all tried to sleep through the music and dancing and TERRIFIC bangs of rockets which went on until about 0500. And the Fiesta isn't supposed to start until tomorrow! <!==========Rosie says===========>
Rosie writes:
" We are now going to sleep on the floor of the 1st floor of a house -11 of us on air matresses and in sleeping bags - makes Hotel Snowland (Jomosan, Nepal) like the Hilton - no dunny, just a field with a drop to the river. "
<!===============================>
Camp 10 - Huayllapa

7236. Breakfast at Camp 12 [text]

7328. Rondoy 5870 m [text]


Huayllapa - Huatiac
Day 17 Sat 23 Jun 1984.
Everybody slept late, I eventually got up at 0650 and tea came round at 0700. Looks a good clear day. Today I think we have to climb a long way. After breakfast, the sky cleared and promises a hot day. [photo] We went about 500 yards upstream, turned left and started a slow climb up into the new valley. Slow because horse was not well today and moved slowly. We gradually climbed out of the shrub line and had our lunch stop near the top of the terminal moraine at the top of the climb. When the party had collected and eaten their lunches,we set off again, but only for about 15 minutes, when we reached the first flat part of the U-shaped valley, where we decided to camp at 1230, our earliest Camp. Greg said this was because the arrieros had hangovers and we shouldn't go too far and give them a chance to recover. I climbed the hill on the right, with John, where I had an excellent crap (my turds are in excellent shape at the moment, coming once every two days), found a sheep pen containing a lovely little baby goat, found a wild potato growing in an earthy crack between huge boulders, saw a viscachaya, saw a huge boulder which had many inclusions in caused by heat and pressure (may be caused by subducted Pacific Plate), and it was very peaceful up there. Came down, had tea, waited for dinner. Got cold and started raining (not very hard). One of the little girls watching us from the other bank of the river apparently goes to school in Huayllapa - 2,000 ft down and 2,000 ft up at least. <!==========Rosie says===========>
Rosie writes:
" Cesar says there is a Puma wandering around polishing off lambs! "
<!===============================> Had excellent meal, mulligatawny soup and vermicelli, new potatoes, cheese, mutton hash. Chatted till 2100 and to bed, by which time not a cloud and usual beautiful display of stars.
Camp 11 - near Huatiac

7335. Jirishanca from Laguna [text]

7415. Greg's white horse [text]


Huatiac - Tapush Pass 4800m - Susucocha
Day 18 Sun 24 Jun 1984.
Up at 0615, packed, out and climbed hillside again overlooking camp. You can see a lot from up here. Climbed up other side as well, where the local s have cut a path which goes through a huge rock. After breakfast, we set off at 0900 in lovely sunshine. It was a fairly easy, steady climb to top of Tapush Pass, which had a false summit. Bob and I saw a puma track, showing a large pad and 5 small pads, about 4 inches across. We reached summit at 1115, and descended to terminal moraine of lake to get out of cold wind to eat our lunch Laguna Susacocha. <!==========Rosie says===========>
Rosie writes:
" Coots, Andean geese, Black Ibis on the lake...horse peed all over Vidal's poncho....Jacko produced candles and we warmed ourselves until the food arrived... "
<!===============================> As we were eating, the donkeys went past, and this was a mistake because they camped just below the terminal moraine of the lake, within a sheep-pen. This camp must be at 15,000 ft [4572m], and tomorrow we shall have to descend to 13,000 ft [3962m] where it would have been preferable to camp, before climbing to the next pass at 15,000 ft and down again to the lake. It has made it a long day, We got to Camp 12 about 1330! Bob and I crossed the valley floor to the large slabs on the valley side and scrambled part-way up these, from where a good view down the valley and onto the Cordillera Blanca, including one large peak with a glacier in our direction that could be Huascaran. Later joined by John Jackson, we went to look over the terminal moraine into the valley below our section, where we shall go tomorrow. There are trees, apparently Eucalyptus, up to 15,000 ft. Back to the mess tent, where 5 of us - Rosie, JCP, Jacko, Iris and Mekkie, waited out the 4 hours to lunch, first by daylight as it got colder, then by the light of two candles supplied by Jacko. Soup (Rosie's treat, very good), spaghetti not so good, jelly and fruit very good in my opinion. Bed about 2100. Some cloud, some stars.
Camp 12 - L.Susucocha


Susucocha - Punta Yaucha 4800m 15,748 ft - Jauhacocha
Day 19 Mon 25 Jun 1984.
Went out about 0645. There's a light sprinkling of snow on the ground. Dense cloud is rolling up the valley towards us, and also down from higher towards us, its very cold with a bit of wind, men in brown ponchos are wandering everywhere, presumably looking for mules, who very wisely have spread to the 4 winds. So I went back to the warmth of the tent. Rosie says Max coughed all night in the next tent. Up for breakfast, [photo] seems to be clearing, 2 jellies and porridge, long discussion on "Loos I have known" by Iris until stopped by common consent. Started at 0900, descended to below terminal moraine near which we camped, then turned right up a new valley, which appeared to have its end blocked by a huge ledge. We climbed slowly, then steeply up the ledge and on through fine black powder to the summit of Punta Yaucha 4800m 15,748 ft. <!==========Rosie says===========>
Rosie writes:
" We passed Quienial trees growing at 15,000 ft. They looked a little like yew trees with bark peeling off, also they had pendulous orange flowers. These were aparasites. "
<!===============================> No wind here, and lots of fine geology to see. Above and beyond us were about 7 huge black condors circling over something, dead presumably. Left at 1120. Had lunch on the pasture just below the pass. To one side is a rock tower with 2 ledges covered in what looks like droppings, probably condor ledges. They are still cruising around above us. There's a fine view all round from here. Continued steeply down, with the mules, amongst lots of blue and white plants (lupins), until - wham! - we suddenly came round the corner with a superb view of the main valley into which this valley empties. Stayed here half an hour taking pictures. At the far end are superb snow covered peaks - see the Bartle book for details - Rondoy, Yerupaya Chico, [photo] Jirishankar, [photo] Yerupaja I think. Below us is a superb icefall and terminal moraine. Below that is a double lake, at the terminal moraine of which we are camped Jauhacocha 4050m Below that is a flat boggy green meadow, the whole huge U-shaped valley lined with impressive rock walls. [photo] Bob and I saw the burros below us cross the main stream and apparently camp on the far side, so John, Bob and I waded across the big stream (John in his boots and socks because of his back) only to find, to our annoyance, that they had shifted to the other bank again and left us stranded. Eventually we had to wade across a second time. After tea, in lovely sunny weather, but cold (13,200 ft) 3 Austrian climbers turned up. They are camped further up the valley. Vidal rode on horseback up the valley and returned with beer and Pepsis. We had an excellent dinner of beer, thick soup, ham and new potatoes, and pineapples. Afterwards Cesar lit a big fire and we all gathered round that until only the embers were left.
NB. One of the Austrians, returning to camp, attempted to jump the stream and fell in - total immersion. He had to run back to keep warm
Bed 2113.
Camp 13 - Laguna Jauhacocha

7334. Yerupaja Chico 6123m [text]

7412. Parasites on Quenual [text]

7413. Rosie below Yauche [text]

Farming at 4,000 metres (13,000 ft). Jauhacocha between the Lagunas. A plateau with a stream. 18 Cattle rings with cows and sheep. About 60 animals. Remains of five houses.
Although rich in mineral resources, the Andes are endowed with limited usable agricultural land. Only 4.5 percent of the highlands, or 19,665 square kilometres, is arable and cultivated. Nevertheless, this area constitutes more than half the nation's productive land. About 93,120 square kilometres of the Sierra is natural pasture over 4,000 m. in altitude, too high for agriculture. The 4.5 percent of arable land, therefore, has dense populations. The best areas for cultivation are the valleys, which range from 2,000 to 3,500 m. in altitude. Although many valleys have limited water supplies, others, due to glacial runoff, enjoy abundant water for irrigation. In the protected valleys, the dry climate is temperate, with no frost or extreme heat. In the high plateau or puna regions above 3 939 m, the climate is cold and severe, often going below freezing at night and seldom rising above 16°C by day. Llamas and alpacas are pastured on the native grasses of the punas. Sheep and cattle, when adapted, do well at lesser altitudes but overall, livestock raising is of modest economic importance, although crucial to the survival of the human population and maintenance of soil fertility.

Jahuacocha - L.Solteracocha - Jahuacocha
Day 20 Tue 26 Jun 1984.
Up at 0645. Frosty and clear. Breakfast. Several people are going to walk to the Upper Laguna on this a rest day.
"Laguna Jahuacocha is generally considered the most beautiful spot in the Cordillera Huayhuash...The peaks, especially Yerupaja, tower so high above Laguna Jahuacocha and its companion, Laguna Solteracocha, that they seem to be a part of a different world".
Cordillera Huayhuash by Jim Bartle 1981.
I set off first at 0900 and reached the top of the terminal moraine at 1020, after a beautiful walk all by myself. [photo] [photo] Gave a toffee to the little girl at the farm, at the foot of the moraine, and was almost immediately bitten by one of the resident curs. Don't think it broke the skin though. Some cloud gradually built up, but it is a lovely day, through the field glasses I can see Cesar, Bob, Wyn, Dave, Iris and Rosie all making their way towards the moraine, but heading towards the right hand side as they see it. I walked along the rim to join them. Lots of pretty flowers and flowering shrubs around. Have seen 3 avalanches while I've been here. Cesar decided to continue up a very narrow, steep "climbers track" towards an overview of the glacier. He took with him Bob, John and JCP, but Rosie followed by herself, the rest sensibly staying put. We heard her "cooee", but then just as the 4 men were negotiating a particularly dicey stretch we heard a scream from Rosie that sent shivers down John and me. <!==========Rosie says===========>
Rosie writes:
" Plenty of bird life around lake area including yellow and light brown small birds as before - light brown upper, yellow breast - males have yellow heads, females brwnish and yellow less bright. Around camp this morning were many chaffinch-like birds. "
<!===============================> We decided to stop there and have lunch when Rosie caught us up, while Cesar and Bob continued on for 20 minutes. John gave us some interesting facts about him leading the Snowdon Mountain Rescue Team for 18 years, and being called out 35 times per year on the average. He was also the person that found the 3 boys from Robert's [my brother's] school in 1960 that fell off the PYG track and killed themselves. [See Tragedy on Snowdon]. We returned, past the springs which bubbled unidentified gases, and back to the camp at about 1430. Dubbined my boots and slept in the sun till it got too cold, then retreated to the mess tent, talked and drank a beer until dinner came at 1900. My treats seemed to go down well - Turkish Delight (though Iris prefers it with chocolate round), Kojak style lollipops and 2 blocks of stoned dates (only 1 of which got eaten, but John particularly liked). Afterwards we gathered round a fine fire outside until only the dying embers were left. About 50% cloud and stars above. Bed, very full, about 2106.

Jahuacocha
Day 21 Wed 27 Jun 1984.
Breakfast of toast and jam at 0800. Cloud a bit low. <!==========Rosie says===========>
Rosie writes:
" Cesar gave his weather forcast this morning -"bad weather - lightnings in the Amazon"!! "
<!===============================> Eventually decided Bob, Rosie and I would climb North side of valley towards Laguna high up. Everybody else staying in camp, fishing, dhobiying, etc. We started out at 1000 by wding across the very cold stream, and then climbed slowly through the steep, grass and lupin covered hillside. Eventually after 2 hours climbing through attractive scenery we reached a ridge from where we could see the stream, flowing from the Laguna above a rocky ledge about 1.5 hours above us. We decided to climb another half hour then have lunch. We crossed the head of a gulley the surface of which was rather loose. Bob decided to wait for us by a little tree, Rosie and I went on and found a large path climbing upwards. We shouted to Bob, who apparently didn't hear us. Rosie and I followed the path, but it kept going, so we came down to have lunch and found Bob gone. We shouted - no response - so we had our lunch, then followed the path down till we lost it. The wildlife was interesting. Lots of Qrunicil trees, with flowering red sections [photo] (the 'leaves' of which look completely different from normal leaves and may be seed pods), lots of humming birds pollinating the flowers, lots of blue lupin bushes, bright yellow flowers on the ground, mosses green and red. We continued steeply down till we reached the river. I jumped over the two arms, but poor Rosie had to wade again. [photo] A Swiss priest and his mate have pitched camp on the other side from us. Wandered round the local hump and found a place for a good crap. Then stayed in the Mess Tent chatting, beer was brought, and eventually food at 1930. Very good oxtail soup, trout (caught by the arrieros in the lake this afternoon) and chips, peaches and John's treat of Anglesey fudge and Welsh rock! Then we all gathered round the usual excellent fire of Cesar until about 2115. Bed 2130.
7428. Unfriendly scorpion [text]

7502. Flowering cactus [text]


Jahuacocha - Punta Pampa 4300m - below Pass.
Day 22 Thu 28 Jun 1984.
Set off at 0900, down the valley. <!==========Rosie says===========>
Rosie writes:
" Saw some woodpecker type birds. Brown speckled wings, yellow underparts, about size of pigeons around camp site. "
<!===============================> We had to cross the main stream again - I did this by jumping the side and main stream, most others by using the horses, Rosie by fording. [photo] We followed the flat valley bed for some way, then gradually ascended the right hand side of the valley, contouring round the ridges, as we gradually rose. <!==========Rosie says===========>
Rosie writes:
" ...we saw torrent ducks in the river...passed through Quenual trees and cacti with the large flower spikes (Bromeliad)...saw a turquoise humming bird with brown wings amongst all the other humming birds. ...There are all sorts of insects here - most under stones - scorpions, spiders (black and large brown ones with 'arrows' on their bodies, and large 'bluebottles' with a proboscis the length of their bodies. Also there was a 2 inch long insect, black with orange wings which took off like a Boeing 747! "
<!===============================> Very impressive views as we got higher until eventually we went over the slight pass [Punta Pampa 4300m 14,107 ft] and saw below us the Cordillera Blanca, Chiquian in the distance, and the valley of the Llamac below. Starting to meet more insects, in particular one with a large proboscis which I photographed. [photo] We dropped a short way and waited in the sun for the mules. Before the pass, I noticed a bird with black back, white under and orange legs and bill which I pointed out to Sue. I saw it dive into white water. Sue seemed very pleased and pronounced it a Torrent duck. Continued on to just below the Pass, where we camped. [Punta Pampa 4300m]. The burros came eventually, but one was missing, and an arriero had gone looking for it on Cesar's horse. Another horse (Greg's) and an arriero were dispatched and eventually found it. It was only carrying vegetables and canned fruit, but it could have been carrying kitbags, much more serious. [photo] Meanwhile we erected tents, lounged in the hot sun, and went hunting scorpions, which seem to live under every other rock. [photo] We also found some very large spiders. I got ready for collecting botanical samples tomorrow by getting a spoon from the kitchen and lots of plastic bags. Had an excellent meal of soup, spuds, meat, tinned fruit. Piscoed-tea and large chocolate as treat. Bed about 2100.
Camp 14 - Punta Pampa

Male Torrent Duck


Punta Pampa 4300m - Llamac
Day 23 Fri 29 Jun 1984.
Quite a warm night, even though we must be at 14,000 ft. I had a bit of a rough night, Rosie woke me from a deep slumber because I was snoring, and immediately I couldn't stop coughing so had to suck a fisherman's friend. Then it rained, making a noise on the roof. After breakfast, I started collecting botanical samples, [photo] then trailed behind the main group as we descended almost 4,000 ft to Llamac, collecting samples all the way, the air getting thicker and heavier and with more smells, more vegetation springing up. <!==========Rosie says===========>
Rosie writes:
" Saw out 2nd Boeing 747 insect. Many proboscis insects, one stung Sue through her socks! Vegetation got larger the lower we went, with usual cacti including Bromeliads and then lower, Agave. Lots of 'prickety bushes', and quite a few birds including green parrakeets with orange necks. These in flocks. Saw a brownish bird with a pleasant call - also black birds (larger than British blackbird) which ahd a lovely call. "
<!===============================> Eventually, after very pleasant descent through attractive countryside, we reached Llamac and had a beer in one of the hostelries as well as our lunch stop. Pitched camp just outside the village, above the rushing torrent. Lots of insects around. Wandered around, collected an agave cactus (baby) as a sample.
Rosie writes:
The baby survived transport to our home in Dorset, England, and was put in a pot outside our front door, where there was
the most sun and least rain. It grew rapidly until one winter wet snow rotted our teenager. It needed cold and DRY!
Much warmer now. Good evening meal. Bed about 2100.
Camp 15 - Llamac

7601. An old agarve [text]

7605. End of Trek, Rosie [text]

7609. Chiquian, Cordillera [text]


Llamac - Villavicencio
Day 24 Sat 30 Jun 1984.
Started off at 0900 and walked down the rocky, stoney path following first the Llamac, then the Achin, then some other river, for miles, under the burning sun of a cloudless sky near the equator near noon. Very dusty, covered all possible flesh with clothing of some kind. Eventually, at 1230, crossed a river by a bridge and got to a flat plateau where two rivers meet between huge cliffs on each side. Trouble is this will not do as a camp site as all the grass is dry - not food for burros or horses, so we will have to continue on to our old campsite at the bridge. Most of the party are riding the extra distance - Greg says it will take Rosie over 3 hours. We set off immediately, Max, Mekkie, Rosie and I. Its a long, dusty, stoney track, under a boiling sun but with a strong wind at times [photo] and generally upwards, but not very steep. [photo] I got into the old campsite (Camp 1) at 1500 and promptly had a lovely wash in the stream. [Villavicencio]. I had followed the burros for miles. Rosie was only about 20 minutes behind, then Mekkie. I then spread my samples out for their daily UV dose. Later the rest of the party arrived on horseback with funny stories, but nobody actually fell off. Pitched tents, at tea call we ate 2 tins of pilchards (or sardines), excellent. Later had a jolly good meal, after beers all round. This is last night under canvas, rather sad. All the stars out tonight and a lot of insects and a few bats and a thin crescent moon, horizontal, looks wrong somehow. Bed 2045.
Camp 16 - Villavicencio

7524. Mule blankets drying [text]

7525. Kids at Villavicencio[text]


Villavicencio - Chiquian
Day 25 Sun 01 Jul 1984.
Up at 0630 to a cloudless sky, which really warmed us up when the sun got down the valley sides to us. The mess tent steamed in the sun. There has been a lot of condensation in the night. We didn't hurry breakfast, and afterwards, while the arrieros were drying [photo] and airing out tents we had a photo session of people getting on and off their horses. I used the opportunity of taking mug shots in the bright sunlight. [photo] At last, at 1000, the horses started up the hill, led by Greg and Vidal and preceded by Rosie, JCP and John (who started about 30 minutes earlier. It was a long slog to Chiquian, taking about 1 hour. I stopped once, to take photos of the magnificent Yarupaja and adjacent snow-covered peaks in the distance, and have a drink. Caught up with John just before we reached Chiquian, [photo] and we all had our lunch stop in a field with a great view. Rosie wasn't far behind, but her incentive was to keep in front of the horses. [photo] When we finally got to Chiquian, we paid off the arrieros, got established in the Hotel San Miguel, and then went looking for somewhere with beer, which we eventually found. Later we went to the restaurant next to the church, which seemed clean and where I had soup and shared rice and beans with Rosie. The others had considerably more. Afterwards, while the sun was still up, Rosie and I walked some way up the road from Conococha and photoed the town, [photo] returning across country. At 1600 the sun goes behind the hills and it rapidly starts to get cold. There's an American printer and his daughter (fluent in Spanish he says) staying at San Miguel. He's sold his business. He likes Ecuador because its easy to reach sea, mountains and jungle and "You can live for 500 bucks a month". If he went back to the States he'd have to start working again. Went down to a Restaurant at about 1845 for our meal. John bought a large bottle of Pisco Pura on the way, 5,000 soles = £1.25! At the meal I shared a bottle of beer with Rosie (2,000 soles = 50p) and then we had cheese, bread, excellent Indian corn (I had 2 cobs), soup, and then I couldn't eat any more - other people had tortillas and rice. Lots of Pisco Pura. We got back and went to bed at 2115. Note - chatted for some time to 60 year old American who had been trekking with Mountain Travel to the Caucasus - Mount Elbruz.
7620. Cordillera Blanca (left) from C. [text]

7619. Cordillera Blanca (right) from Conococha [text]


Chiquian - Conococha - Pan American Highway - Lima
Day 26 Mon 02 Jul 1984.
Woke up at 0530, after trying to sleep in a Procrustian bed - it was 6 ft long only. Had spectacular dreams about an airshow and different types of aeroplanes. Rosie got up, switched on light and started crashing round on the wooden floor like a herd of elephants, to the great ire of the 3 Indians in the room below, one of whom, in a sleepy Spanish voice, said "F*** off". Rosie finally ready and packed about 0700, and we trooped off after the others to the restaurant next to the church, where I had 2 fried eggs and bread - excellent. We then wandered down to the municipal gardens and waited in glorious weather under a cloudless sky. The problem is Vidal hasn't been paid yet, Olinda (Cesar's wife) is rumoured to have left Lima and spent the night at Conococha (high and cold). Cesar hired a truck last night and went up to look for her but no trace. He's now back, sleepless and worried because the bus hasn't come either, At 0800 the telephone exchange opened, phone calls were made and the bus will arrive after 0900. I think Olinda has been located too. We sat in the sun and watched the world of Chiquian go by - kids, dogs, women fetching water, beggars, kids off to school at 0900. Our bus eventually arrived about 1100, it had come from Lima, and contained no Olinda. [photo] The drivers had something to eat, then we loaded our kitbags and started off at about 1130. As we climbed up towards Conococha, the views of the snow-covered peaks around and including Yarupaja became more and more majestic. The sky was practically cloudless except over the peaks. [photo] [photo] We stopped at Conococha, and there met Olinda, who had brought some money, but not all, and also some beer cans, bread, cheese and fruit. Vidal decided to continue to Lima with us. By the way the 2 Americans are with us, the younger one is an engineer working on the Pacific Missile Test Range, but doesn't have chance to talk because the elder (his Dad?) talks all the time about his travels. As we descended from Conococha, the coach hurtled round lots of nasty hairpins, and several people were feeling rather sick. Vidal was actually badly sick apparently. We stopped at a Restaurant "San Lorenzo" for some food - I had beer, bread, cheese from Olinda and soup provided by the restaurant. Then we continued on, the road getting lower, straighter and more desert-like as we approached the sea. At 1630 we turned left onto the Pan American Highway, and drove through the frightful desert landscape in the fading light and mist, eventually reaching the Hotel at Lima about 2000. Most people only had time to have a good wash, pack and have a simple meal in the cafeteria before going to bed. I had an orange juice and a super large club sandwich, Rosie some kind of avocado, but isn't now feeling very well. We are being collected at 0500 tomorrow, those going to Cuzco at 0400!
7615. Dusty bus to Lima [text]

7624. 747 Jumbo to Frankfurt [text]


Lima Airport - Bogota - San Juan
Day 27 Tue 03 Jul 1984.
Woke up about 0430, must have been sounds of others going to Cuzco getting up. Rosie wasn't feeling at all well, and shortly after becoming vertical she emptied her stomach into a bucket she'd thoughtfully placed there the previous night. <!==========Rosie says===========>
Rosie writes:
" At 0700 2 July we went to a cafe by church for breakfast... I had 2 fried eggs + 2 cafe con leche...Vidal was violently sick due to the bus motion. This made others a bit queasy.... After lunch we went slower as requested by Sue. I had developed stomach pains...some of us went to eat in Coffee House at hotel. I couldn't eat my 'starter'....about 2330 started gagging... Could not sleep, stomach felt awful. Up about 0445 3 July and was promptly sick as 3 pigs...I ate breakfast before Bogota and was sick again....Have also diarrhea and wind, also felt feverish...ate a little roll and butter + small sticky bun - and still I was sick. "
<!===============================> I put the cases outside the door, and went down to see the others and have some breakfast. Iris had also been unwell all night. Off they went, how many shall I see again? I had an orange juice only, contacted Jacko, and nipped upstairs (6 floors, no breath problems) to collect Rosie. We 3 piled into a huge Mercedes and drove to Lima Airport. We checked in. I had plenty of soles, but the goods on sale in the airport shops were very poor quality. Eventually I bought a bottle of Pisco for Taffy, leaving me with about 65,000 soles. They weren't interested in changing it at a money exchange counter, so I'm stuck with it. When we went through the personal check, they really took my hand luggage to pieces. I was carrying my sleeping bag (stuffed), which they felt at every angle. They were dumbfounded by my moss in an Elastoplast tin, and very suspicious of my pills in anther tin, opening one of the capsules to test the powder. But they did not have an X-ray so the film was OK. We finally got into a 747 Jumbo which had come from La Paz, [photo] we had 3 seats with mine by the window, wing trailing edge, starboard side. We took off at 0830 and started the long tedious haul. A lot of people got in at Bogota. They allowed us out again at San Juan into the transit lounge. I only had breakfast and evening meal. I watched a bit of the film, which was a kids, then managed to get some sleep on the 8.5 hour to Frankfurt.
7627. Airport carousel [text]

7628. Home to Aunty Joyce's [text]


Frankfurt - Heathrow - Home
Day 28 Wed 04 Jul 1984.
Woke up suddenly to find dawn lightening the sky and Rosie and Jacko already starting their breakfast. Lovely red along the horizon as dawn came. Had breakfast and then we landed at Frankfurt Had about an hour before boarding London plane, so shot round airport trying to find a way up to the roof where German WW2 and modern fighters were on display, but I couldn't. Some kerfuffle while we all had to identify our main luggage before boarding, and ours.......
[here my epistle ends! It is taken up by Rosie's logbook....]
At Frankfurt we boarded an A310 airbus and we received our 3rd breakfast, and I ate some of it. Left (Frankfurt) about 0830, arrived Heathrow about 0930 BST. [photo] Taxi to Aunty Joyce's - not very friendly driver. Dull, cool weather in Frankfurt - warm sunny at Heathrow. Arrived at Aunty Joyce's about 1030. [photo] Drove home from Aunty Joyce's stopping at motorway restaurant on M3 for a snack. Sun is shining at home and no rain at all at home since we left for Peru. Reached home about 1430 after a very good holiday except for ATAHUALPA's REVENGE at the end!!!

                    Water
Feet  Metres Oxygen Boils
    0     0  100%  100°C
 1000   305   96    99.0
 2000   610   93    98.0
 3000   914   89    97.0
 4000  1219   86    96.0
 5000  1524   82    95.0
 6000  1829   79    94.0
 7000  2134   77    92.9
 8000  2438   74    91.9
 9000  2743   71    90.8
10000  3048   68    89.8
11000  3353   65    88.7
12000  3658   63    87.6
13000  3962   61    86.6
14000  4267   58    85.5
15000  4572   56    84.4
16000  4877   54    83.3
17000  5182   52    82.2
18000  5486   50    81.0
19000  5791   48    79.9
20000  6096   46    78.8
21000  6401   44    77.6
22000  6706   43    76.5
23000  7010   41    75.3
24000  7315   40    74.1
25000  7620   38    72.9
26000  7925   37    71.7
27000  8230   35    70.5
28000  8534   34    69.3
29000  8839   33%   68.1°C

Flights


                     OUT                    BACK
     +6 hrs   |                      | 0920 BST
LHR Heathrow  | 1010 BST             | 0320 PT
              |            1:05 hrs  |            1:00 hrs
FRA Frankfurt | 1115 BST             | 0220 PT
              | 1300 BST             | 0020 PT
              |            9:05 hrs  |            8:50 hrs
SJU San Juan  | 2205 BST             | 1530 PT
              | 2350 BST             | 1330 PT
              |            2:12 hrs  |            2:00 hrs
BOG Bogata    | 0202 BST             | 1130 PT
              | 0322 BST             | 1030 PT
              |            2:00 hrs  |            2:00 hrs
LAP Lima      | 0522 BST             | 0830 PT
    -6 hrs    | 2322 PT              |
Total         | 19:12 hrs 14:22 hrs  | 18:50 hrs 13:50 hrs

Kit list

Hand luggage: | Passport | Sterling | Trav cheques | Airline tickets | Wallet | Camera | Film cassettes | 28mm lens | Telephoto | Close-up rings | Binoculars | Pentax insructions | Face cloth | Toilet bag | Toothbrush | Toothpaste | Soap | Pills | Sunglasses | Biros for JCP | 3 thin logbooks | Comb | Eyemeask | Keys for cas and kitbag | 2 plastic carrier bags | Altimeter | Spanish phrase book | Chalk | In case: | Litre water bottle | Max-min thermometer | Pentax batteries | Photo album for kids | Battery razor | Pocket knife | Film cassettes | 3 case belts | Vosene | Prism compass | Pants | Turkish delight | Photo logbook | Sun goggles | Self: | Thin trousers | Street shoes | Subdued shirt | Pants | Tie | Kitbag: | Sleeping bag | Stuff bag | Boots | Jog shoes | 3 prs Thick socks | 4 prs Thin socks | 1 Thick shirt | 1 Thin shirt | Thicj trousers | 2 Navy sweaters | 3 prs coloured pants | Thermal vest | Long Johns | Thick overtrousers | Balaclava | Wool mittens | Hilary hat | 2 prs White sun gloves | Glacier cream | Blister plasters | Panadol | Enterosan | Sterotabs | Maloprim | Fisherman's friend | Mycota powder | Toilet paper | Dubbin + rag | Torch | Torch batteries | Spare laces | Housewife | Troll pouches | Night lights | Matches | Dustbin liners | Padlock | Small towel | String | Polybags | Balloons - Sweets - Pens - Rubber snakes - Bubbles for kids | Clothes line | Laundry kit | Enamel mug | Belt for trousers | Hankies | Kitbag | Rucksac | Tips for next time: Take packet of powdered soup to use in hot water or weak tea | New housewife + thimble | Take fags for locals |
Walked, written, typed, formatted, hyperlinked, encoded, and copyright © 2012, . All Rights Reserved.