YELLOWSTONE AND GRAND TETON
NATIONAL PARKS CYCLE TOUR
Click on these "thumbnails" to see enlargements and text.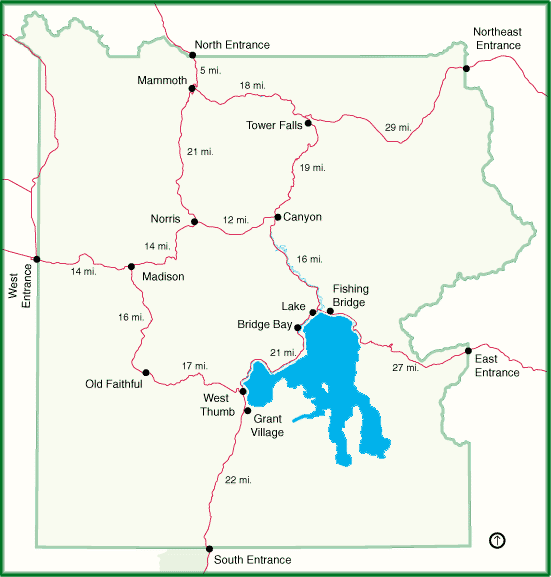 Sunday 25 August 1991: We arrived by car with the bikes on top at our B&B, Curzon House, Curzon Road, in Manchester about 5pm in very warm weather where an almighty racket was going on in the form of a 'Do-it-yourself' enthusiast wielding a 'Black & Decker', power lawnmower at full throttle and the aeroplanes taking off! After a walk followed by a meal at a local Indian restaurant we 'gift-wrapped' our bikes with bandage-type pipe lagging. We should have brought polystyrene pipe covering instead which would have made the job much easier. It took me ages to lag my bike frame. Bed 11pm.

Monday 26 August: After breakfast at 6.30am we drove to the Fenton's 'Peacock Farm' where we were to leave our car and meet our cycling group but they were already at the airport. The van arrived for us and our bikes and we finally met our group at the airport, many of them older than us but very cycling-fit with some of them in full lycra gear and no surplus adipose tissue! There are 13 of us. We were given clear, thick polythene bags to put our bikes in having 'flattened' them in the usual manner for air travel. We went through extensive security checks and questioning and I saw my bike put through the X-ray machine.

We took off at 10.45am and hit a '35K chop' 1 hour later! After 4hours 40mins we were over northern Canada and when the clouds cleared we could see masses of lakes + ?conifer forest (?tundra or taiga) and only the odd road. Eventually we were over the Hudson Bay with icebergs and turbulance again. The icebergs looked like little sailing boats from this height! At 4.49pm BST we were over the south shore of Hudson Bay and there were now signs of human habitation with fields etc. We did see some ?buildings clustered on the north side of the bay as we flew over the south shore. There was also a long clearing stretching along an area near the north shore, ?pylons carrying hydro-electric power. Soon there were lots of 'little roads' intertwining in parts. These could be forest management tracks as I could not see any houses. Eventually there was a checkerboard of fields and roads all at right-angles, very boring and dead flat! At 6.15pm BST we were over the Great Lakes and I could feel us starting to come down as we were nearing Chicago.

We landed at 1.09pm local time (7.09pm BST) at O'Hare airport which should be renamed O'Hell airport! Temperature was 87F. We had to collect our bags and our bikes and cart the lot from A to B! All this after standing in line for about 1½ hours to be checked out at passport control! We thought we were going to miss our 'plane to Jackson Hole, Wyoming but we didn't because it was very late due to a mechanical fault at Columbus, Ohio. John (policeman) had a captive audience when he told us the miserable experience his group suffered when they took their bikes to Oregon the previous year. The 36 bikes were 2½ days late! Some of the bikes were damaged too.

We took off at 5.35pm local time (11.35pm BST) and at first we flew over flat, boring countryside with everything in rectangles and then ---WOW---the Black Hills of Dakota followed by the Rockies. While we were eating our meal an unaccompanied 7 year old boy, sitting next to me, needed the lavatory and a line of us had to get out of our seats, carrying our trays, to let him out. This was repeated in reverse on his return! The whole round trip was repeated again when he realised that he had left something in the lavatory!

We landed at Jackson Hole (6209ft) 2hours and 50mins later. Temperature was 64F. The white man first arrived here in 1807. We should have landed at Salt Lake City first but we had to land in the daylight at Jackson Hole so our 'plane went on to SLC after it had dropped us off. As a result of this switch 4 of our bikes went on to SLC, one of them being mine!

Our group + bikes-4 were bussed to the Friendship Antler Motel in Jackson as the moon came up over the hill. Our room (#205) was huge with 2 double beds with all the extras + more than was necessary! Outside are mostly tourist shops with a Western flavour and 'stagecoaches' for the tourists who are called 'turkeys' here (gobble-gobble-gobble)! Bed about 9.30pm local time.

Tuesday 27 August: I woke at 12.40am and could not get to sleep again. John went for a walk at 2.30am, returned and we both went out at 4.30am! (Our room had air-conditioning, which we had turned off at bed-time. As there were no windows that opened the room got very stuffy). At about 5am we had coffee in an all night restaurant with one of the couples, Keith and Valerie. The sidewalks here are made out of wood so the night air smells of wood. It got light at about 6.30am and at 7.30am our group went to breakfast at 'Sizzlers', an 'all-you-can-eat' place! Jackson looks like a real modern Western town with miles of tourist shops in all 4 directions and was very cold in the early morning due to the altitude. Most people around here drive around in 'utes'! There was a small park and at each of the 2 entrances was an archway built from elk antlers!

John's bike had been badly scratched on the frame and wheel rims and his back wheel had been bent during transportation. John (policeman) 'retuned' the spokes and straightened the rim with brute force. The 4 'lost' bikes arrived about 10am and mine had a broken rear mudguard, saddle adrift again, a slightly bent back wheel and a bent derailleur guard. The rest of the group's bikes had similar faults although not many bent wheels. I took my bike to 'Teton Cycle Shop' to be repaired after John and I had glued the mudguard and saddle with 'Epoxy'. We suspect the baggage handlers just piled all the bags on top of our group's bikes in the aircraft hold. The bikes were certainly piled on top of each other during transport to the 'plane.

At about 1.30pm the others went out for a 15 mile fast bike ride and I had lunch in 'Sizzlers' as I was bike-less. I boobed when I chose the Mexican section; the funny green things were HOT peppers! The weather deteriorated to heavy showers and at 5.15pm I collected my bike from the shop. At 7pm we had our evening meal at the all night place but I could only face soup and salad. The soup resembled a thin stew so that was filling! Bed 9.30pm.

Wednesday 28 August: Awoke about 3am and got up at 5.30am. The rain had cleared and we had breakfast at 'Sizzlers' at 7am. I had a 'once-thru' and John had an 'all-you-can-eat'! Cyclists who do not wear helmets are referred to as 'organ donors' and the average snowfall in a year is 400 inches in these parts. We all set off about 10am mostly downhill on the H.26/89 in warm sunshine, unfortunately into the wind so even the downhills were uphill! We passed through Hoback Jct and I was having a problem trying to keep up with the group. They were all too fast for me! All along this day's route were hundreds of brown and yellow crickets making loud squawking noises and many Lodgepole pines and some white-barked Aspen trees. I think I saw some bald eagles too as well as an osprey in flight! Traffic large and unpleasant fumes (?diesel) so I could not smell the countryside. I reached Alpine Jct about 2pm. The others probably got there half an hour before! We had followed the Snake River most of the way. I saw a grey-ish moth or butterfly supping from the flowers just like a humming bird while we were having lunch. Could this have been a humming-bird hawk-moth? We had cycled 36 miles.

John and I later cycled around the sprawled out Alpine and sat by the river which was now rather ugly due to the dredging work to handle floods. Saw an LBJ with reddish-brown chest, slightly smaller than a song thrush. There are many wooden houses in the Tyrolean style scattered around here. We were booked into the Alpen Haus Hotel and our room cost $47 a night. At 7pm we all had a superb meal in the restaurant which is also in Tyrolean-style. I had a side-salad, stuffed boneless trout, baked potato with sour cream + giant cheese-cake which John had to finish! Bed 10.30pm.

Thursday 29 August: Awoke about 3.30am and ate breakfast at 6.30am in the Bakery and we were given 'doggie bags' for our free donuts from the Coffee Shop. Headed north in sunshine at 9am on the H.26 along the Palisades Reservoir which was a huge lake with a very low water level like the Snake River. The road had many ups and downs, the downs steeper than the ups and the weather was not very warm yet. We were now in Idaho. I saw a chipmunk which was the size of a large mouse and a few ospreys, black and white under wings. I also saw 3 sandhill cranes, white with black wing tips and large yellow-ish bill. Chatted to a fellow picking 'chuck cherries', who I thought was pruning the hedge. We stopped for coffee at Palisades after the Dam and 8 miles further on at Swan Valley (5277ft) we stopped for lunch.
After lunch we turned right off the H.26 where we had been cycling fast since the dam. Turning right on the H.31 was a bad move because it was 15 miles uphill in warm sunshine by now! I rode all the way up but stopped for a few brief rests. At the summit of Pine Creek Pass (6764ft) was an LBJ, a humming bird!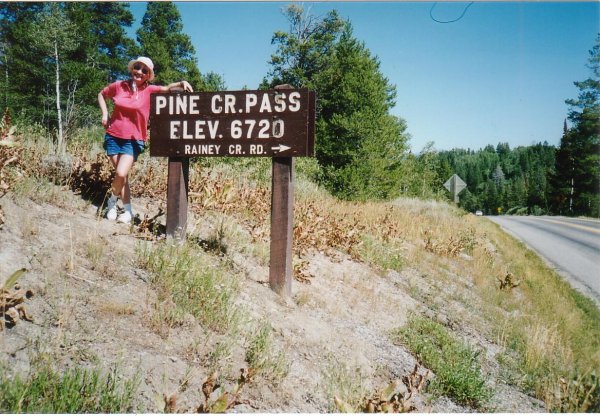 It was 6 miles down the other side followed by a flat bit into Victor where we had a glorious lime drink and then we turned left on the H.33 for 9 miles along a dead straight road, following the Union Pacific Railway, into Driggs. This ride was 60 miles.

We had our evening meal at 'Wrights British Rail Restaurant', where they had not heard of the 'British Rail Sandwich'! Bed 10.30pm. Unfortunately there was live contemporary folk music in our hotel, Best Western Teton West, which kept me awake!

Friday 30 August: I was awake again at about 5am and had caught a cold obviously picked up on the 'plane journey. Our breakfast was back down the road at the Bakery at about 7am. The 'ham bits' in my scrambled egg were half a pig! We were surrounded by big American men in regulation kit of jeans, check shirts and baseball caps chatting over coffee! Set off on the H.33 at about 9.45am very slightly downhill in warm sunshine. This day was the warmest so far. We cycled mostly through grain country (plains) with Grand Teton on view all day and the day got hotter. After Tetonia we turned right on the H.32 to Drummond where we drank the bar dry. This was the only 'town' (called city!) for miles! Afterwards we passed a disused railway which was the reason Drummond was where it was! Finally we reached Ashton (5255ft) which was rather tatty-looking with wide streets but a posh supermarket, where I bought a large can of 'Gatorade' crystals. Mixed with water this replaces lost electrolytes. This day's ride was 42 miles. We were booked into the Four Seasons Motel. Some boys were practicing for American football and the girls were having a Cheerleading rehearsal. At 7pm we went across the road for our evening meal. It was a long hike, I could have starved to death on the way over! After our meal we chatted to some locals. Bed about 10.30pm.

Saturday 31 August: Slept until about 4am. There was only one double bed and the room was much more spartan than previously! We had breakfast across the road and I now had a stinking cold. Set off on the H.47 (Targhee National Park) at 9am in warm sunshine into a headwind and uphill! I was miles behind the others because of my cold. We came to a range of hills and immediately the fields finished. Bob and I saw in a river a ?beaver dam and about 3 beavers or otters swimming but we could not see their tails for identification. Many ups and downs on the road to negotiate. Since leaving Jackson I have seen lots of wild plants including ?Asphodel, similar to Evening Primrose. Saw similar plants in Crete.

Eventually we made the turn off to Mesa Falls which I could have done without as this was an optional extra! This area was a huge extinct volcano crater complete with pine trees. I saw a ?bluebird near Mesa Falls. I bagged a lift on an RV (camper van) as I felt left behind here and I missed the lower falls too. A bloody cock-up! I did not realise there were others behind me at that time. The family dropped me back on the proper road and I continued through half dead, half cut for firewood Lodgepole pine plantation for MILES! I arrived at a crossroads (?Henry's Lake) and the others turned up! (See italics later).

We turned right onto an awful road (H.191/20) towards West Yellowstone, Montana (?6800ft). Weather now hot, much traffic and boring pine plantations which became even more boring after we crossed the Continental Divide. There was a short uphill bit which was the Targhee Pass (7072ft). Very few 'watering holes' all day and this is a huge firewood area! After the pass the road to West Yellowstone was 10 miles of straight road and pine forest and I thought of Captain Scott's famous utterance, 'God, this is an awful place!'. After 66 miles of mostly boring scenery I arrived at West Yellowstone long after everybody else, staggered into the 'Three Bears Lodge, where we were booked for the night, parked my bike and then parked myself in the hot outdoor pool!

(I am confused about this day's ride as John's itinary says:- 'At Silver Lake, turn right on to H.20/191 to Mack's Inn. On to Henry's Lake ---etc.---'. It also says the day's ride was 57 miles but I did 66! Also where the hell is Mesa Falls on the map!)

Later we had a good meal in the Lodge restaurant. This was Labor Day weekend - another cock-up as area is lousy with tourists. There are many motels, restaurants, shops and a youth hostel here. Across the road there was a Square Dance in full swing but I am too tired to take an interest! On the whole this ain't good cycling country - too much traffic (maybe due to the weekend) and not enough variety in scenery! The elevation, also, makes cycling difficult. Bed 11.30pm.

Sunday 1 September: Up at 7am but I still woke very early! I ate a 'small' breakfast at about 8am. We set off at 9am in more cloud than sun. Paid $4 to enter the Park and we cycled along to Madison Jct, Wyoming (6806ft), 14 miles of burnt pine forest (1988). A beetle had also helped to kill the trees from the crown downwards, the fire did the rest! The 14 miles also included cycling alongside a lovely fishing river where we saw an elk in the water but there was a real traffic snarl-up when a bison (buffalo) hove-to! Turned right at Madison for 'Old Faithful' (7365ft), 16 miles away. We went along a 'minor' loop, Firehole Canyon Drive, for a while which was attractive and followed a gushing river (Firehole River) but the place was rather spoilt by too much traffic and the main road was awful! There were traffic jams when more wild animals turned up, which ain't too good when you are on a bike, the rest of your group are miles in front and everybody else are in RV's! Many camcorders came out amongst these folk. There were bloody great motorway intersections near 'Old Faithful' and we saw many small geysers etc before the 'big-un' and steam was rising everywhere. We were booked into 'Colditz', actually the Old Faithful Inn, Yellowstone, which was completely built out of wood! Loads of tourists here. Only 23 miles cycled on this day!

Later John and I walked around 'Geyserland', boardwalks for 1.1 miles to 'Morning Glory' Pool. This is the biggest area of geysers in the world. 'Old Faithful' is approximately 700 years old, 'Giant' Geyser is the largest in the world and 'Castle' Geysers are 8,000-40,000 years old. The hot spring pools are lovely and in various sizes, each with a deep hole disappearing into the earth. We had to book our evening meal and could only get 5.30pm or 9pm booking so we chose the 9pm. It was a good meal and not too much! Bed about 10.30pm.

Monday 2 September: Labor Day! Slept fitfully and I kept having nightmares! What were the plastic pots in our room for? Breakfast at 6.45am. John and I climbed 200ft to observation place to photograph 'Old Faithful' but it was 20mins late so I came down to order our sandwiches in hotel restaurant. This geyser is supposed to blow about every 100mins and is the only one with a regular timetable, hence its name! We set off at 9am back the way we came except that we cycled along Firehole Lake Drive, another one-way drive. Lovely sunshine but not hot. We were soon back on the main road and then we went down steeply to Madison on a different main road than on the previous day. Saw a bison. We then turned right on Grand Loop Road and Paintpot Hill (7484ft) was on the right. We continued toward Mammoth Hot Springs (6239ft), first uphill following the Gibbon River on a lovely narrow road; some traffic but not too awful! Reached Gibbon meadows. Now the road had some ups and downs and eventually widened again and we reached Norris Jct in Norris Geyser Basin (7484ft). I did not go to the geyser and thus caught up some of the group and we headed north by Roaring Mountain stopping for lunch near a campsite.

I saw loads of chipmunks on this day's ride (44 miles) and they run with their tails upright - squirrels slink! I also saw an elk, antelope and ?bitterns in a swampy basin before we reached Mammoth which was mostly downhill after lunch. There were also magpies in Mammoth. While we were eating our excellent evening meal at 7.15pm there were many elk grazing outside the restaurant. That night our group slept in cabins. John and I were in #C31. Our group had 'en-suite' cabins but some cabins were not, so the people in those had to use the 'al-fresco' wash-houses etc. Bed about 10pm.

Tuesday 3 September: Up at about 6.30am for our booked breakfast at 7.30am. A French coach party had booked breakfast for 6.30am so the restaurant was full when we arrived!

We set off at 9am in sunshine and cycled east along Grand Loop Road down to a bridge, then it was ups and downs to Tower Jct (6278ft) where we had refreshments a mile up the hill near Tower Falls. There are spectacular canyons and a fine waterfall here. I saw a ground squirrel in moorland-type country which is prettier than pine forest country. According to Mick this area is a glacial valley from Mammoth.
After looking at the waterfall we turned right for Canyon (7818ft) via Dunraven Pass (8859ft), the highest in the Park.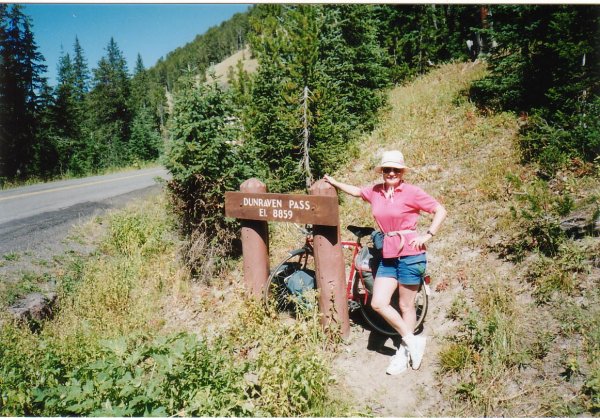 This was MURDER! It went on for ever with many false summits but I was not the last getting to the top! David, Dorothy and Audrey were last, arriving just after me, although I was told Audrey was not feeling very well. There was only a car park on the summit! Saw an antelope during the downhill ride to Canyon village where we had refreshments. I had a glass of milk and chicken noodle soup - the best ever! Now we were higher up there was lovely moorland.
We then took a detour along Grand Canyon of Yellowstone, a superb deep valley with the gushing Yellowstone River going down it - hence the name of the Park!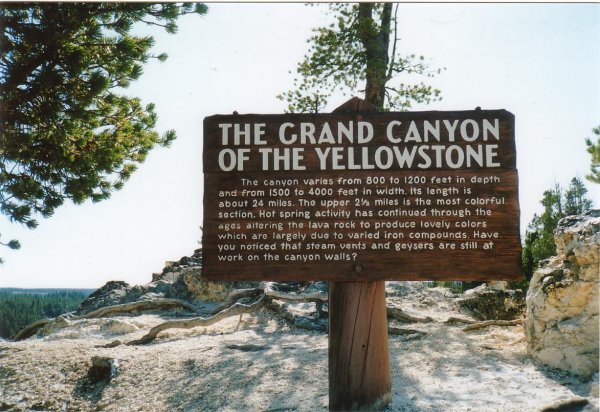 The rocks are yellow-ish. We also had a look at Inspiration and Artist Point where the river was 1200ft below. This was a superb canyon with a view of the lower falls (308ft drop) and the upper falls (109ft drop). I had previously thought that the Park was going to be a real anticlimax! Saw eagles etc.

After the Grand Canyon we continued 15 miles to Lake Yellowstone along the upper Yellowstone River with superb moorland (Hayden Valley) and 'wall-to-wall' wildlife, including river birds (coots, Canada and other geese, herons and/or Trumpeter swans) and bison. I reached Lake (7784ft) at 7.15pm but John had arrived at 6pm! The day's ride was 53 miles. There was still quite a lot of traffic about but not so many RV's. We were booked into some lovely detached cabins, part of the Lake Yellowstone Hotel complex and the hotel itself was like a yellow version of 'Colditz'! We had booked dinner for 8pm but we did not get it until after 9pm! Mick was very good at impressions! Bed midnight.

Wednesday 4 September: Awoke about 4.30am and I felt cold! A 'day off', but there was an optional extra of a 140 mile round trip to Cody to visit the Buffalo Bill Museum! Had breakfast 8.30am and instead we set off at 10am for a short bike ride beside the lake in sunny but chilly weather. Saw some Cutthroat trout in the river at 'Fishing Bridge' (7792ft). Bought bird and wildflower booklets at the visitors' centre where we watched a video about the 1988 fires in the Park.

May 1988 was very wet but then there was drought from June-September, also high winds. Most of the fires were started by lightning. 24,000 firefighters and dozens of helicopters were brought in and this was the biggest firefighting effort in history (up until 1988 that is).The Old Faithful Inn, largest 'log cabin' in the world, would have been burnt down had the fire not changed direction at the last moment!

John and I continued along for a further distance to Steamboat Point where we climbed down to the lake shore. Here there were Canada geese, some ducks and LBJ's. Thousands of Lodgepole pines lined the lakeside, all unburnt. Dunked my feet in the clear water where there were small fry and the water did not feel too cold. We returned to 'base' having looked at an RV park - crammed together, all sizes of RV but mostly large. There were some 'utes' pulling trailers (what we call caravans) and some RV's pulling cars! I once heard an American description of an RV as a 'house cart'! Today I saw an ?eagle, some pelicans and a bull bison close-up! Dinner for half our party was at 5.30pm and for the rest at 8.45pm. After dinner we sat in the hotel lounge where a loud pianist was playing the grand piano! Bed 10.15pm.

Thursday 5 September: Awoke at 6am having had the best night's sleep since I had arrived in the USA! An official day off with blue sky and a few clouds! At 10am we all, except Bernard and Bob, went for a 4 mile walk through natural Lodgepole pine forest to a viewpoint called Elephant Point where we had a super view of the lake and mountains. A natural pine forest looks so much nicer than a plantation of the same type of trees all the same age and straightness! Saw many brown squirrels, 1 red squirrel (do they have red squirrels in the USA?), 3 American robins and a raven. Heard various squawks! We arrived back at about 1.30pm and lunched in the cafe which was part of Hamilton Stores, one of a chain in the area. Suddenly there was a thunderstorm! Later I went for a walk along the lakeside toward 'Fishing Bridge'. Met Muriel, Audrey and Dorothy and later met Mick on his way back. Saw 2 bison. Dorothy and I took an inner track back. Dinner was at 8pm and Eric presented me with a miniature bottle of 'Chablis' for my birthday. Bed about 11pm.

Friday 6 September: Up at 7am. Slept fitfully. Set off at 9am in cool sunshine in a a southerly direction along the west side of the lake to West Thumb (7733ft) where there are minor geysers. We made a left turn to Grant village, 2 American miles after West Thumb, where I grabbed a sticky bun and a huge decaffeinated coffee. We went past Lewis Lake after crossing the Continental Divide (7988ft).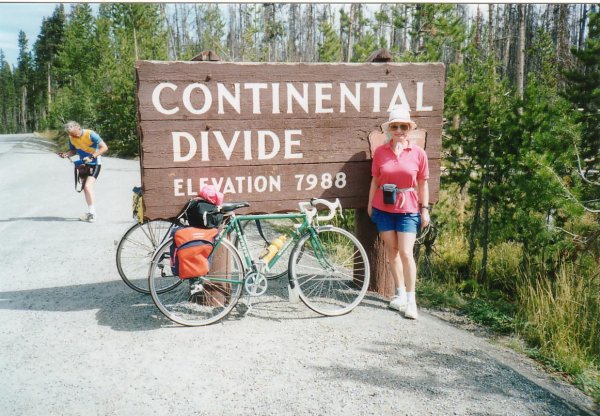 There was a slight descent to the exit of Yellowstone Park (6866ft). Next stop was Flagg Ranch, another 20 or so miles ride. I saw an insect, which moved like a hummingbird, on flower borders. Another hummingbird hawk-moth maybe? At first we went to Flagg Ranch camp site by mistake! We then continued on the H.89/287 and entered Grand Teton Park, following Jackson Lake to Colter Bay village, on the lake. This was another 20 or so miles cycle ride (total 63 miles!). It had got much warmer in the afternoon and looked thundery in the distance. We were now at 6900ft about 1000ft lower than the previous 3 nights. There is a superb view of Grand Teton craggy mountain range from Colter Bay. John had gone on ahead as usual so I was often left behind! There had been many ups and downs including one great down to the Snake River'. (6866ft). The 2 Parks are separated by the Snake River valley. There were chipmunks outside our log cabin #834, Colter Bay Cabins! We had our evening meal locally in the 'Chuckwagon' at 7pm which was good value for money. Afterwards we had difficulty re-finding our cabin amongst the pine trees without a torch! Bed 10.30pm.

Saturday 7 September: Slept fairly well, I think. Up at 7am to grey clouds and drizzle which later turned to rain so this became another day off! We should have had a 25 mile ride to Signal Mountain (6838ft) for fine views of Lake and Teton Mountain range. A robin was outside the cabin; its size and behaviour like our British blackbird. At 11.29am a chipmunk appeared eating like a squirrel. We then walked in the rain down to the general store to buy things for lunch and the next day's breakfast. On our return we saw a mule-eared deer fawn outside our cabin!

At 3.13pm a nuthatch appeared on a pine tree outside our window. A rabbit and a squirrel also showed up in due course. When the rain had eased off I went for a short walk uphill and I reckoned there were over 1000 cabins, beyond which was the corral with horses and a trail-head. I only walked along this trail a short way as I was on my own and I did not know what big hairy creatures might be lurking in the shrubbery and anyway it looked like it was going to rain again which it eventually did with thunder! We went for our evening meal at 7pm in the 'Chuckwagon' again and afterwards we sat in the bar for a while. Bed about 10pm.

Sunday 8 September: Up at 6.30am. Slept well! Breakfast consisted of a Hershey's milk drink and 2 sticky buns bought on the previous day. Weather still looked grey and just faintly drizzling. We set off at 7.30am on the H.89/287 to Jackson Lake Jct. We then turned right to North Jenny Lake Jct and continued to Moose (6467ft). John stuck behind me all the time so I would not miss the 'plane! I had to put my cape on for the first time on this vacation. No time to put on my overshoes but it did not rain hard! The worst bit of the ride was the long, straight boring bit on the H.187 to Jackson Hole airport (6209ft), which remained on the horizon for ages! We reached the airfield about 10am. (36 miles). Bernard was the last to arrive - he did not leave his cabin until 8.30am. In decent weather we would have had superb views of the Grand Teton mountains. We had an harrassing time preparing our bikes for transportation as the bandage-type pipe lagging was no good. We left on time after I had 2 packets of raisin bran, 1 pint (American) of skimmed milk and half an apple for 'lunch'. Apart from this it was 'wall-to-wall' junk food in the airport restaurant!

Reached Salt Lake City in good weather after half hour flight. We were all transported to the Days Inn Airport Hotel in 3 lots + bikes + bags which took 1½ hours.

Later we 'went on the town'. In pouring rain + thunder + lightning we caught a bus for 65¢ each to Temple Square where we immediately went into the huge and extremely posh Mall. All the posh restaurants and shops were closed as it was Sunday but we ate a marvellous cheap meal in "JB's" 'fast food' restaurant! Afterwards we looked round the Morman Temple complex where the women looked and sounded like the 'Stepford Wives' and we were given a guided tour of the complex. Boring! As it was not raining when we left we walked the 3 miles back to the motel after we were put on the right course via N. Temple Street. Bumped into many of our group who were the only folks walking around town! You could see them for miles! There were interesting sights on the way back - only 1 'down-and-out' who was under a bridge and many restaurants including Mexican. The city looked very clean, neat and tidy and we got back to our motel before the next thunderstorm. Bed about 10.15pm.

Monday 9 September: Awoke before 6am and up about 7am. Coffee, sticky bun and a banana for breakfast. The sun came out and it was quite warm by 9am when we started to leave for the airport. I tried to patch up my polythene bike-bag with the airport's 'Sellotape'. We took off at 11am. There were superb views of the countryside below including:- mountains, craggy rocks, a large river, river valleys with craggy sides, desert, 'square' fields, more desert, meandering Missouri River, etc. etc. We had a choice of lunch 'Chef salad' or 'Chicken sandwich'. I boobed by having the salad which consisted mostly of lettuce - not enough to feed a budgie! At 1.28pm we began our descent with the dead flat 'square' field scenery which we had now been flying over for ages, each field with its farm buildings. As we landed at Chicago O'Hare airport we passed over miles of factories which were in actual fact cold stores so we had been told.

At O'Hare I bought a jar of fresh fruit salad for $2.60. This time there was no hassle and we watched our bikes being put on board the 'plane. This airport is huge and we never got to see the outside where the temperature was 90F. As we took off we passed over downtown Chicago on Lake Michigan. At 8.42pm (Mountain Time), we were over the Atlantic and had just had dinner. It was soon dark going east and we were on time. John slept a bit but I did not, as is usual for me on a 'plane!

Tuesday 10 September: A Continental-style breakfast appeared before we landed at Manchester airport at 7.30am (BST). Mick, Eric, John and I were transported to Fenton's farm where we unpacked our bikes and straightened them out. The rest of the group lived fairly near Manchester and they cycled home from the airport. John and I drove slowly home in fairly warm sunny weather.