| | | |
| --- | --- | --- |
| Updated 01 Oct 2013 | John and Pete cycle across America | |
<!==================================================> <!==================================================>
The condensed log-book of a 4,000 mile bicycle ride across America from Pacific to Atlantic, the curious and interesting society we saw there, and the strange things that happened to John and Pete in 66 days.
Contact the author on for more information. See Peter's logbook.
Pete


CYCLING ACROSS AMERICA 1992
Oregon - Virginia.

John


6 months before starting.
Broadstone (DORSET, UK)
The special bike-friendly route we used was supplied by BikeCentennial of Missoula, aimed at avoiding large populations and traffic, and finding scenery and History. I copied all places, distances and directions on this route into a computer database, printed out 30 mile sections onto bits of paper which we pinned to our handlebars, so we could navigate on the move (no opening maps in the wind). We decided not to camp, which saved us weight, let us keep clean, keep the bikes securely in a room, and get a good night's sleep. My buddy Pete, a retired policeman from Yorkshire, contacted police families on our route across the States, who will "offer us hospitality". I made out a tested "kit list", and managed to reduce kit plus panniers to 24 lbs. We both plan to post used film home, where one wife gets two sets printed and sends one set to the other wife. When we get home, we write on them while they are still fresh in our memories. Here is a condensation of my logbook.

9-12 Aug 1992
Dorset-Gatwick (UK)-Atlantic-Denver (COLORADO)-Portland (OREGON)
An exciting 4 days, when I met Pete at Gatwick, watched The Barcelona Olympics closing ceremony on TV, and we flew Continental from UK to USA with our bikes in boxes. Saw icebergs in Hudson Bay, and just missed Mount Hood. Don and Muriel, who I met by chance in Portugal, put us up in Portland for 3 nights and showed us the sights, bless them. Then I landed myself in hospital and Pete thought he'd have to cycle alone. This was the low point of our big ride!

01 ASTORIA - At the start of the
route, ready to go!

The Reason

In 1990 I did the Circuit of Ireland and met an American at Inverin who had cycled Eastwards across America in 90 days. We chatted in the hot sun lounge waiting for the hostel to open and I became enthusiastic. On return home I discussed my plans with Rosie, but agreed she would not be up to the challenge and we shelved the idea. In August 91 Rosie and I went on a CTC tour of Yellowstone Park and really liked the Americans and the Rockies. Talking with our group revived my Inverin idea. On 21 Sep 91 Geoffrey Wareham's article about America Coast to Coast appeared in the Daily Telegraph and lit my fuse again. In November 91 I put this advert in Cycle Touring and Campaigning:

CROSS AMERICA. Dorset male (51), retired, seeks comp(s), sim age to cycle across USA, Coast to Coast in '92. Sadly its too far for my wife. All letters answered. - Box 8684.

I received 10 replies and the first and most enthusiastic was from Peter Howe, a retired policeman from Cleveland. We agreed to go together and began planning. I got 12 maps of the TransAmerica Trail from BikeCentennial in Missoula and first met Peter and Barbara in the Algarve in February 92. Now read on...

The Plan

Leave home: SUN 9 Aug 92 Rail: Poole to Gatwick Fly: Gatwick to Denver USA Denver to Portland USA By road: Portland to Astoria, Oregon Cycle the TransAmerica Route, West to East. 1. Prevailing West wind behind. 2. Cross Rockies when no snow. 3. Acclimatise to altitude slowly. 4. Cross Plains when not too hot. 5. See Fall colours in New England. 6. Don't camp, use motels. Astoria, Oregon Idaho, Montana, Wyoming, Colorado, Kansas, Missouri, Illinois, Kentucky, Yorktown, Virginia 4,210 miles, 24 passes, highest 11,542 ft, 10 States, 64 days cycling, 6 rest days, 10 weeks on Route, 11 weeks away. Cycle: Yorktown to Norfolk, Virginia Fly: Norfolk to Newark USA Newark to Gatwick UK Rail: Gatwick to Poole. Return home: THU 22 Oct 92
| | | |
| --- | --- | --- |
| Astoria-Eugene OR | 235 miles 4 days. | Coast road flatish. Heavy rain and fog possible in W. Drier and cooler in E. |
| Eugene-Baker City OR | 345 miles 6 days. | Thunderstorms possible W of McKenzie Pass. High, dry, hot, low humidity plateau to E. |
| Baker City OR-Missoula MT | 400 miles 6 days. | Dry, hot, some steep climbs, can reach 110°F in Hell's canyon. |
| Missoula-W.Yellowstone MT | 330 miles 5 days. | Eastbound Chinook wind, thunderstorms. Four well graded passes |
| W.Yellowstone MT-Rawlins WY | 350 miles 6 days. | High plateaux with mountains, Cool, semi-arid climate. Winds from SE, often 40-60 mph |
| Rawlins WY-Pueblo CO | 365 miles 6 days. | High altitude, average 8,000 ft, cold nights, warm days, low humidity |
| Pueblo CO-Larned KS | 340 miles 5 days. | Gradually downhill. Constant wind. Dust storms possible. Hot but very low humidity |
| Larned-Pittsburg KS | 300 miles 4 days. | Downhill slowly. Dry in W, humidity increases to E. Winds from S or SW 10-12 mph |
| Pittsburg KS-Farmington MO | 335 miles 4 days. | Steep hills in E, "roller-coaster". Climate very variable, wind from S and SE 7-9 mph |
| Farmington MO-Berea KY | 500 miles 7 days. | High humidity. Variable climate |
| Berea KY-Christianburg VA | 380 miles 7 days. | Steep hills. Hard cycling. Wind from W. High humidity. Thunderstorms. |
| Christianburg-Yorktown VA | 370 miles 7 days. | Route has poor surfaces. Small thunderstorms, flash floods, very humid. Bike early |
VALUABLES
Pills 88 days
Doctors letter
Wallet
Train ticket
Passport new
Passport old+visa
Driving licence
Logbooks (2)+covers
Sterling 100
Dollars cash $190
Trav cheques $1340
TC sales advice
Insurance details
Logan receipt
Mastercard
Visa card
Amex card
Plus card
Phonecard
Air tickets
Altimeter
Calculator
Camera 110+tele lens
Camera compact
Spare film (110)
Spare film (35mm)
Dig.thermometer
Dig.humid.meter
Bike keys
YHA card
Tripod

CYCLE
Handbag
Panniers front x2
Panniers rear x2
Waterbottles x2
Cycle lock
Key for lock
Pedals x2
Pump
Computer+case
Cape
Hat (Breton,nylon)
Spats
Tabard
Cycle mits
Cycle gloves
Inner tube x2
Cycle oil
Rag x2
Plastic tyre levers
Puncture repair kit
String+elastic bands
Spare nuts & bolts
Brake adjust string

CLOTHES
Long trousers
(smart)+belt
Trainer shoes
Jacket (w'proof)
Cycle shorts
Cycle-shirts x2
T-shirt
Shirt (smart)
Hankies
Pants
Socks,short x3
Sweatshirt
Swim trunks

HYGIENE
Toilet bag
Small towel
Soap+caddy
Facecloth
Toothbrush
Toothpaste
Comb
Battery razor
+Duracell batteries
Eat picker
Bog paper
Panadol tablets
First Aid

ODDS & SODS
Flag+pole
Eraser
Baseball cap
Shoe deponger
Red stuff bag
Sunglasses
Mask
Mask (spare)
Ear plugs
Earplugs (spare)
Pegs x3
Gluepen
Long football laces
Housewife
Stamp container
Pocket mag.glass
Biro+spares
Pencil+spares
Able labels
Polythene bags
Selotape
Lip screen
Photos of Rosie+Mum
Corn circle postcards
Instructions, watch,comp
Instructions, compat cam
Spare clear envelopes
Chain oil
Prezzie for Hagars
Torch
Toenail cutter

NAVIGATION
Compass
Red pouch
Services pack
Profile pack
Streets pack
Conditions pack
Guide packs x12
Maplet packs x12
Motel xeroxs

EATING
Tinopener

BIKE BOX
Parcel tape
Folding scissors
Red marker pen
Decals

TOOLS
Adj.spanner 20mm
Driver,slot,medium
Driver,cross,small
Spoke key,12 gauge
Allen keys,3,4,5,6mm


Weight of 4 panniers + contents = 24 lbs
TIPS for NEXT TIME
Find when check-in desk opens, ask for door seat earliest
Ensure emergency spoke cut to right length
Ensure patches and adhesive are new
No need for phone card
Contact Chamber of Commerce for cheap accomodation
Use Continental tyres (Germany) not Michelin (France)
White shirts better than red, don't fade, easier to wash
Keep away from grass and verges, and on tarmac to avoid
SAND BURRS. Also put Kevlar lining between tyre and tubes
Take spoke cutter and small file
Baseball hat useful (large peak)
BIKE PROBLEMS



Pete 17 Aug Puncture
Pete 18 Aug Puncture
Pete 21 Aug Spoke
Pete 23 Aug Spoke
John 24 Aug Puncture
Pete 24 Aug Puncture
Pete 26 Aug Puncture
John 27 Aug Swapped tyres at 913 miles
Pete 06 Sep Puncture
John 06 Sep Puncture
Pete 06 Sep Puncture
John 06 Sep New front tyre at 1,543 miles
Pete 08 Sep Spoke
Pete 16 Sep Puncture
John 16 Sep Puncture
Pete 17 Sep Punctures
Pete 18 Sep Punctures
Pete 19 Sep Punctures
RK=road kill
NW=not wild
Praire dogs
Chipmunks
Sidewinder
Humming birds
Skunks RK
Porcupine RK
Hares
Moose
Bison
Vultures
Large eagles
Small snake
Pronghorn


Deer
Kingfisher
Bees (swarm)
Blue jay
Racoons
Sturgeon NW
Rainbow trout
Salmon
Ducks
Belt snake
Black buzzards
Possum
Red squirrel
Fox, grey & red
Cayote


Musk rats
Chicadees
Llamas NW
Emus NW
Scorpion
Geese
Sparrow hawk
Osprey
Woodpecker
Herons
Wild turkeys
Steer NW
Caterpillars
Black widow RK
Mole


Small hawk
Seagulls
Rabbits
Bluebird
Sage grouse
Rattle snake RK
Pheasant
Pelican
Tortoise
Cattle egret
Armadillo
Crayfish
Turkey vultures
Turtles
Stick insect

When we got home, I sent Pete a list of a few of the "1,000 Memories" I had from our ride, each of which is a story in itself. Pete used this to give talks about our ride for charity. He hands the list round the audience and asks "What would you like me to talk about?". Pete's been doing this for 15 years now, and has collected a great deal for his two cancer charities. If you live near Cleveland UK, and would like to hear him, contact Pete on 01642-453-694.
To see more about the memory, click on the ♥ "red heart"
♥ Icebergs near Greenland
♥ Pack ice in Hudson Bay
♥ Our plane misses Mount Hood
♥ We swim in the Pacific
♥ A very hot day - 97°F
♥ A pet Rotweiler
♥ A Crisis Psychologist
♥ Lava fields at 5,324 ft
♥ Cayotes howl at night
♥ Their own log cabin
♥ A sagebrush desert
♥ Peaks with snow
♥ Radio link with England
♥ The Blueberry Muffin
♥ Put up by "Sally Annes"
♥ A rodeo in John Day
♥ Vultures circling above
♥ Union Pacific whistles
♥ The Oregon Trail
♥ Local boy loses both hands
♥ We watch Team Lassooing
♥ Chatting to real cowboys
♥ The dreaded Texas Tack
♥ Big fires on Snake River
♥ Helicopter lifting water
♥ Idaho, watches forward 1 hr
♥ The big headwind
♥ Huge lumber trucks
♥ Squashed skunks smell bad
♥ Motels full of fire fighters
♥ Half a gallon of solid milk
♥ The White Bird climb
♥ Two ospreys on big nests
♥ Wild hummingbirds
♥ No services for 77 miles
♥ Swopping tyres
♥ Snakes alive move fast
♥ "Montana is too crowded"


♥ Smutt Warren + Bunky Ranch
♥ Nez Perce battlefields
♥ An extinct volcano
♥ Cyclist, Maine to Alaska
♥ The grounded eagle
♥ Awful American TV
♥ Ghost towns + gold rush
♥ Cameron, population 8
♥ The Quake Lake
♥ Bald eagle fishing
♥ Trilobites
♥ Cayote + 2 bison
♥ "Old Faithful" spouts
♥ The Continental Divide
♥ Rain all day
♥ Race up the Togwotee Pass
♥ The ostrich farmer
♥ Wigwam and buffaloes
♥ Giant prime rib
♥ Indians have problems too
♥ We break into a bike shop
♥ The Great Emptiness
♥ Uranium mining
♥ Leaning Tower of Pizza
♥ Another spoke goes
♥ Ride in a police car
♥ A live sidewinder
♥ Guns and rifles
♥ Have a bottle of Mace
♥ Prairie dogs
♥ Arms dealer at mangy Moose
♥ Throwing horseshoes
♥ Fragrant sagebrush
♥ A bluebird
♥ 15% humidity dries washing
♥ Beaver dams + headwinds
♥ Fall gold and yellows
♥ 22 miles on bikeway


♥ "Iditerod Mike" from Alaska
♥ Hoosier Pass 11,542 ft
♥ Middle aged hippy
♥ Shower from a bucket
♥ 3,000 ft descent in 1 hour
♥ Interviewed by local paper
♥ Free pies at Dings
♥ Tour of a Penitentiary
♥ Mirage on the road
♥ Achison Topeka and Santa Fe
♥ We cab a Southern Pacific loco
♥ Grain elevators are cathedrals
♥ Two dust devils
♥ Kids drive cars at 14 here
♥ Huge steer stockyards
♥ 33°F colder today
♥ High school football game
♥ Father Chuck with gut
♥ Father + sheriff = free motel
♥ Bitten by a Katydid
♥ Tabards in the fog
♥ Pelicans and tortoises
♥ 132 miles today
♥ Prairie chicken world capital
♥ A dead Armadillo
♥ "Yodelling Katy" at Chanute
♥ A 90 lb truck driver
♥ A Crawdad on the road
♥ The exhausting Ozarks
♥ All you can eat for $5
♥ "Sherwood forest" roller coaster
♥ Rock cakes + 1775 flag
♥ Legless Americans
♥ Civil War reenacted
♥ Across the Mississippi
♥ The Bike Surgeon
♥ A 16" pizza
♥ The Methodist bagpiper


♥ A ride on a corn harvester
♥ Jack Bible and Kentucky Tavern
♥ Air conditioned pick-up
♥ Amish folk reject cameras
♥ Sorghum andTobacco Fair
♥ 6 cats and a home computer
♥ Pump is useful on irate dogs
♥ Daniel Boone lived here
♥ Huge coal trucks
♥ Piano concert in kentucky wilds
♥ Moonshine $25 per gallon
♥ 900 one-armed bandits
♥ The Khudsu man
♥ Descent through red and gold
♥ A church hostel
♥ Cross-bow hunting starts
♥ A pair of ripe shorts
♥ A plain-clothes chauffeur
♥ 2% or regular?
♥ Chocolate cobblers
♥ We are recognised on TV!
♥ Police hospitality
♥ Stay at Washington + Lee University
♥ Stonewall Jackson faces South
♥ The "Cookie Lady"
♥ Weapons in a War Wagon
♥ A female detective
♥ 3 armed youths = one dead
♥ Chewing baccy + snuff
♥ The mobile locksmith
♥ ***We did it!***
♥ Peter swims in Atlantic
♥ Daughter of American Revolution
♥ Teenagers tour cells
♥ By Paddy Wagon to airport
♥ Home, 26 lbs lighter!

--- And the kindness, generosity and hospitality of the American People ---
This tyre was bought for $30 on 29 Aug 1992 at Hamilton, Montana and put on the front wheel. It was transferred to the rear wheel on 5 Sep 92 at Redrock, Wyoming and continued across America to Yorktown, Virginia, a total of 3,342 miles. In Feb 93, still on the rear wheel, it covered 497 miles over the roads of Valencia in Spain. This Continental Top Touring tyre, 700 x 32C and made in Germany, has covered 3,839 miles and still seems to have plenty of wear left in it. If I'd started with it at the Pacific, it could have crossed America to the Atlantic.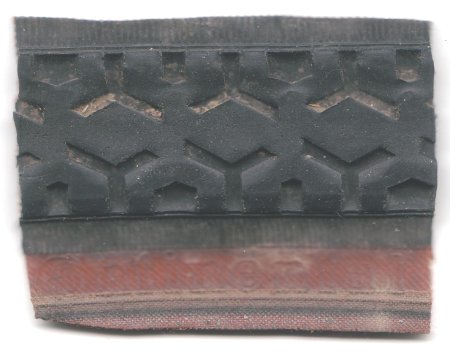 95 The TEXAS TACK. The bane of cyclists in mid-America. Its scientific name is Tribulus Terrestris, its often called Goathead, Puncturevine or Caltrop. Don't laugh, its MURDER! In Colorado I had 20 punctures at the same time, miles from anywhere. Below is what I found out about the beastly weed on the Internet:



Like many weedy species, this plant has many common names. Puncture Vine, Caltrop, Yellow Vine, and Goathead are the most widely used; others include bindy eye, bindii, bullhead, burnut, burra gokhroo, calthrops, cat's head, common dubbeltjie, devil's thorn, devil's weed, doublegee, dubbeltje, gokshura, ground bur-nut, isiHoho, land caltrop, Maltese cross, Mexican sandbur, puncture weed, rose, small caltrops, tackweed, and Texas sandbur (also T. micrococcus).
It is a taprooted herbaceous perennial plant that grows as a summer annual in colder climates. The stems radiate from the crown to a diameter of about 10 cm to over 1 m, often branching. They are usually prostrate, forming flat patches, though they may grow more upwards in shade or among taller plants. The leaves are pinnately compound with leaflets less than a quarter-inch long. The flowers are 4–10 mm wide, with five lemon-yellow petals. A week after each flower blooms, it is followed by a fruit that easily falls apart into four or five single-seeded nutlets. The nutlets or "seeds" are hard and bear two sharp spines, 10 mm long and 4–6 mm broad point-to-point. These nutlets strikingly resemble goats' or bulls' heads; the "horns" are sharp enough to puncture bicycle tyres and to cause considerable pain to unshod feet.
Planned, cycled, written, typed, formatted, hyperlinked, encoded, and copyright © 2007, . All Rights Reserved.