| | | |
| --- | --- | --- |
| Updated 15 Nov 2011 | Circuit of Ireland 1961 | |
<!==================================================>
Circuit of Ireland - Logbook
15 Aug - 8 Sep 1961
<!==================================================>
Direct transcription from my original logbook.

In 1990 I wrote:
"While a student, with bicycle and friend, I discovered the magic of Ireland in 1960. The next year I returned with my brother of 16. Newly graduated, I hoped to cycle the Circuit of Ireland before a working career brought an end to long holidays. He found the going hard and my enthusiasm over ardent. We started at Cork, but quarreled at Tra-na-Rosann and left through Larne, the Circuit not Complete".
In fact we only completed 2/3, Larne to Cork remaining.
In 2010 I write:
Now I am 70, my brother says he would like to have a go at the Circuit himself next year, what route did I take? So I dig out my old logbooks, and use it to knock up this website, and put it online to help him. Good luck little brother, send me a postcard from Slieveleague!
Contact the author on

for more information.

Ballinskelligs YH 1961

Glin YH 1961

Mountshannon YH 1961

Mewillian YH 1961

Carrick YH 1961

Stradreagh YH 1961

Kinsale (Summercove) YH 1978

Killary Harbour YH 1991

| | | | | |
| --- | --- | --- | --- | --- |
| DAY | Date | Weather | ROUTE | miles |
| | Aug 15 | Rain | Paddington, Fishguard, | 10 |
| | Aug 16 | Sun | Cork, Blarney, KINSALE YH | 36 |
| | Aug 17 | Cloud, Hwind | Ballinspittle, Clonakilty, Rosscarbery, Leap, Skibbereen, BALTIMORE B&B | 56 |
| | Aug 18 | Sun, Hwind | Skibbereen, Bantry, Glengarrif, Kenmare, BLACK VALLEY YH | 70 |
| | Aug 19 | Sun | Coomeanduff, Caragh, Derrylooscaunaigh, BLACK VALLEY YH | 0 |
| | Aug 20 | Cloud, rain | Kenmare, Blackwater Bridge, Parknasilla, Sneem, Coomakesta, Waterville, BALLINSKELLIGS YH | 60 |
| | Aug 21 | Sun, wind | BALLINSKELLIGS YH | 1 |
| | Aug 22 | Sun | Cahirciveen, Glenbeigh, Killarney, AGHADOE HOUSE YH | 55 |
| | Aug 23 | Cloud | Gap of Dunloe, Snake Pass, Ross Castle, Torc, AGHADOE HOUSE YH | 25 |
| | Aug 24 | Cloud | Killarney, Trallee, Listowel, Tarbert, GLIN YH | 61 |
| | Aug 25 | Rain, Twind | Askeaton, Limerick, Birdhill, Tuamgarrey, Holy Island, MOUNTSHANNON YH | 67 |
| | Aug 26 | Cloud, Hwind | Woodford, Loughrea, Galway, SPIDDLE B&B | 61 |
| | Aug 27 | Cloud, Twind | Maam Cross, KILLARY HARBOUR YH | 49 |
| | Aug 28 | Sun, wind | Leenane, Westport, Mulrany, Currane, MEWILLIAN YH | 61 |
| | Aug 29 | Cloud, Twind | Mulrany, Rossturk Castle, NEWPORT B&B | 28 |
| | Aug 30 | Cloud, Twind | Nephin, Crossmolina, Ballina, Inniscrone, EASKY B&B | 57 |
| | Aug 31 | Sun, wind | Ballysadare, Carrowmore, Sligo, Grange, Stradreagh, Bundoran, Donegall, BALL HILL YH | 77 |
| | Sep 01 | Cloud | Mountcharles, Inver, Dunkineely, Killybegs, Fintragh Bay, Largy, Kilcar, Muckross Bay, CARRICK YH | 38 |
| | Sep 02 | Cloud | Bunglass Point, Slieveleague, Carrigan Head, CARRICK YH | 9 |
| | Sep 03 | Cloud | Glengesh Pass, Ardara, Dungloes, Gweedore, POISONED GLEN YH | 46 |
| | Sep 04 | Cloud | Errigal, Creeslough, Doe Castle, Carrigart, TRA-NA-ROSANN YH | 34 |
| | Sep 05 | Cloud | Crocknasleigh, Boyeeghter Bay, Downings, Mulray Bay, TRA-NA-ROSANN YH | 12 |
| | Sep 06 | Rain, cloud | Derry, Limavady, STRADREAGH YH | 71 |
| | Sep 07 | Cold, cloud | Coleraine, Bushmills, Giant's Causeway, White Park Bay, Ballycastle, Cushendall, Larne, Stranraer | 78 |
| | Sep 08 | -- | London, Twickenham | 14 |
| DAY | Date | Weather | ROUTE | 1,078 |
DAY 1 Tue 15 Aug 1961
London, Fishguard
Woke up at 8am this morning to find an overcast and blowy day waiting for us. I stayed in bed, reading the paper until 10, while Mum chased off down town. When she got back, she had managed to extract 28/- from Shears for the price of the tickets (which now cost 80/10 and 17/8 for the bike each). Mum has also bought extra things for us like salt & pepper holder, butter container and pan scrubber.
At 10 am, it started to rain heavily, but remained dry, if heavily overcast for the rest of the day. After great fuss and pallaver about Robert's packing and loading, we had lunch and set off for Paddington at 2.15pm, taking a photo at the gate before departing.
Arrived at Paddington 3.5, dry but sweating after fighting our way through the heavy traffic in the A40. There were two trains departing for Fishguard, 3.45 and 3.55, the former being the fast and the latter grandiosly termed "United Capitals Express". After holding a chess-like conversation with a Welsh porter, we loaded our bikes on the fast and walked up the train looking for seats. It was packed to the roof with Celts and Gaels saying their goodbyes to each other. We found good seats at the front of the Express, and I walked back to change our bikes over. These I had to drag over a mountain of luggage, but we were in our seats as the "United Capitals Express" blasted resoundingly out of the station and headed for Wales
Our compartment companions were two families of elderly mothers (or Aunts) and children. All were rather amusing. A little Irish girl Anne had lovely golden-red hair, and a Welsh boy of about 2, Nigel I think, had wonderful sad eyes and grave gestures for his age.
The coaches that we were in, the two at the front, were due for Nayland, not Fishguard, so after eating our packed sandwiches at 9.30, we moved down to the end of the train. There was an awful lot of stopping before we reached the harbour, but the "Innisfallen" was there waiting, packed to the brim as I expected. We managed quite well by getting onto the 1st Class deck without being seen, and had a grandstand view of our bikes being swung up.
Anchor was weighed at 11.45, and we looked round for somewhere to sleep. All lounges were packed but there were a few empty benches along the deck left.
DAY 2 Wed 16 Aug 1961
Cork, KINSALE YH
As we entered the sea proper, a cold wind sprang up, forcing us to move to a passage way beneath the bridge, with an excellent view forwards. This was sheltered and dark but the floor was hard. We slept fitfully until 5.30am, when we again moved, nearer the warm air of the lounge.
All this time the sea was very calm, much to Robert's disappointment, hardly any swell disturbing our progress. The officers were in evidence on the 1st deck, one hardly ever sees them in the 2nd.
We drew into the magnificent harbour of Cork, with cliffs on either side of us, as dawn brightened. After breakfast at 7am, we went forward to watch the scenery unfold. We slowed down to a crawl, and reached Penrose's Quay at 0830, when we did an amazing rotation of 180° while marking time, all in the narrow confines of the river Lee. Customs were waiting in the CCSPC sheds, but did not trouble us.
After loading up, our first look at Cork was on St Patrick's Street and Grand Parade. Then on to St Finnbarr's Church (which we looked round - very richly ornamented) and onto U.C. Our next stop was Shandon Church, where we were lucky enough to hear 3 hymns played on the lovely bells.
The weather, which had so far been dull and blustery, cleared so we stripped for action and climbed the hill to Blarney. Although the castle was rather full, we went all round before leaving about 11.30. Blarney castle really is a most beautiful ruin, and is full of overgrown nooks and crannies.
We made fast time back to Cork, and then along the L42 towards Kinsale. About 5 miles of this road, up to the summit of Fir Hill (500 ft), was being repaired, and the surface and effort involved were pretty dreadful. I suspected a broken spoke here. A wonderful freewheel down recompensed us for our toil and dried the sweat. At xxx we stopped at a store, bought provisions for lunch, and had a long chat to the proprietor. He had been to Twickenham, to see rugby. We cycled a little way out, and and ate and slept in a field. Then on to Kinsale, where we bought stuff for dinner.
After a loopy hilly road to the Hostel, under a hot sun, we were greeted by a peculiar state of affairs. It seemed full (it was only the size of a fair size house and in a terrible state of repair), the warden was nowhere to be seen, everybody was cooking and the gas had run out. We expected that it would be another bread meal, but later on more gas was brought in.
After a fair meal, we went to explore the ruined castle (1928) which is very interesting. Robert went for a swim, but it was paralysingly cold. We messed about until 8pm.
There are about half a dozen assorted boys and girls (about our ages) in the hostel. The Warden is a quiet, soft spoken Irishman, who doesn't seem to care but spends most of his time in the common room looking after his little daughter.
The Hostel has a lovely view of Kinsale Bay and Harbour, which are both quite beautiful. The Hostel itself is rather primitive, without washroom, and just about falling to bits. Bed at 9pm, woken up again at 10.30 by the other hostellers coming in.
DAY 3 Thu 17 Aug 1961
Clonakilty, BALTIMORE B&B
A most eventful day, as I look back writing this in bed. Woken at 3.15 this morning by Robert descending from the bunk above me to retrieve his blankets, making a frightful din. Lay awake for 15 minutes listening to the rats squeaking in the wall across the room. Nobody snored, thank goodness.
Got up at 7, woke Robert (much grumbling) and went down town to the Post Office to get some milk. They referred me to O'Leary's farm 50 yards up the hill, and here I got a pint of warm milk (5d) at 8 am. Had a good porridge breakfast, did our jobs, and set off at 9.15, saying goodbye to Mr Murphy and his side-kick.
Beyond Kinsale, got a little lost but after asking, found our way to Ballinspittle, crossing the 400 yard bridge over the estuary. The weather was warm, with heavy clouds scudding across. A little blowy. Towards Clonakilty the road became rougher, more bumpy, hilly and the wind sprang up in exposed places. The hills were very tiring, although not very high. Perhaps we are not hardened yet.
By Rosscarbery, the wind was blowing strongly in our faces, and Robert was feeling the strain, lagging behind somewhat. We decided to stop at Leap, and called at O'Donovan's bar for a drink.
Here we met a most remarkable lady, Mrs O'Donovan, about 70, who got us what we wanted, took us into her house, laid a table, shewed us her best room, and reagailed us with stories about people (GBS in particular, whom she knew) while we stuffed and drank. Miss Townsend was born here, and Shaw broke his arm descending the hill on a bike here. She got us to promise to write to her.
Now the boat episode. Authorities varied as to whether we could or could not get a boat from Baltimore to Cape Clear this afternoon, and we were taking a chance coming this way. The normal fare by ferry is 6/- return (for 1 hour journey each way) but a chartered boat could cost £1.
At Skibbereen, Robert was becoming unwilling to go at all fast, so I cycled the next 8 miles with him talking about Sport to take his mind off the wind and hills. The scenery from Leap to Baltimore is very beautiful, with a delightful and fascinating range of green hues and tints.
At Baltimore we charged about looking for a boat but gave up at 4pm, and decided to look for B&B in the town. We chose the Post Office and they (Mr & Mrs xxxx) put us up (in a single room, double bed overlooking the "main" street) for 12/6. We cooked ourselves a quick hot meal, and tried to amuse the children (a boy 6, and girl 5 Norah) who were very friendly.
Then for a short walk round the pier and derelict railway in Baltimore. A drizzly mist sprang up for a short time, so after a good wash we retired to bed at 9.15, I managing to bag the port side.
DAY 4 Fri 18 Aug 1961
Bantry, BLACK VALLEY YH
Today has been a tiring day. We woke up at 7am, had a good wash, and went down to a reasonable breakfast of bacon, eggs and lots of bread. We got our bikes loaded, said goodbye, and set off at 9.15am
The day was a little overcast, with scudding clouds and a strong wind, luckily behind us until we reached Skibbereen. We passed through some lovely rocky countryside, reasonably flat until near Bantry. Just beyond Skibbereen, the wind turned, and for the rest of the journey we seemed to be battling against it.
On the main road (T65) just outside Bantry, the head wind became too much, and we turned right up a minor road into the hills. A man on a milkfloat, with horse accompanied us some of the way. We reached the top, rather tired, to be treated to a superb view over Bantry Bay. It was terrifically windy at the top, but we had a highly dangerous freewheel down into Bantry.
Bantry was quite a fascinating place, with a Horse fair and dozens of pubs.
Then on to Glengarrif, through remarkably hilly woodlands, against the wind. At Glengarrif we stopped, bought provisions and ate a huge bread meal (with 2 pints Cidona each) behind a hedge just outside the town.
Then up the mountain road, with threatening clouds above, and a superb view behind, until we reached the tunnel. Robert went at a great pace, and I was unable to close the gap. He collapsed at the far end of the tunnel, while I climbed the hillside to admire the view.
Down the otherside of Turners Reek, towards Kenmare, at neckbreaking speed, but it was still a long ride to Kenmare. Here we bought minimum stores, I foisted them onto Robert, and we raced up the hill again to Moll's Gap. Rain threatened, but by a great effort I just tipped him over the last 100 yards. A look over the Lady's View, then down the rough cart track towards Black Valley hostel. There was much confusion, on my part, as to the exact location, but after cycling about 7 miles along cart tracks, we eventually got to the hostel. There was a decent store here, and we cooked ourselves a good, if rather late, dinner.
Black Valley YH

After washing up, and while writing up, I listened to our hostel mates talking (3 boys and a girl, all Irish). One of them, with the girl, had a quick Irish intelligence, although I doubt whether he had much formal education.

Bed early.
DAY 5 Sat 19 Aug 1961
BLACK VALLEY YH
Woke up at 8am today, looked out of the window to be greeted by driving rain, sodden vegetation and heavy, dank clouds. We rose late, and had a very big breakfast of porridge. About 10.30 am, we decided to leave for the head of the valley. I put two shirts on, and over them my anorak. Took the rucksac, filled with bare necessities, a camera, and food.
As we walked along the cart-track, we were assailed by lightning changes of weather. First, fine rain, then high wind followed by hot sun. The weather could be seen sweeping down the valley. Then the cart track ended, and for a mile or two, the "path" could hardly be distinguished at all among the confusion of streams, bogs and boulders.
When the cart-track re-emerged, we just had chance to reach a sheep shelter (once an old house nestling in a hollow beneath trees) when the storm struck. While we ate our lunch and talked in fair comfort, the wind outside reached an unknown velocity and the rain was nearly horizontal.
About 1 pm, the weather cleared, and got better and better towards the evening. We continued along the cart-track to the last farm, meeting a very ancient deaf-mute en route. Beyond the farm was a fair sized immature river, with all the accesories of boulders, white water and noise. This we crossed, and struggled through bogs and over boulders towards the saddle ahead, on which we could see a prominent stone placed vertically (perhaps not naturally).
From the saddle top there was a magnificent view in both directions, along Coomeanduff and Caragh Glens. We inscribed two pennies (Irish) and hid them in the prominent rock from where one gets a magnificent view down to Glen Caragh. It is in the photo.
Then the long, tiring, but scenically grand trudge home repeating our previous route. We met the deaf-mute again, and took a photo of him. Also a horse. Reached the hostel at 4.30, and cooked ourselves an excellent meal of stewing steak, spuds, peas, tomatoes, apricots and milk! Had a rest, checked my bike (O.K.) and took a photo of the Church, with one of the two wonderful dogs in the foreground. One is a sandy collie, the other one looks like a doormat.
About 8.30pm, we went out for a stroll, down to the river, crossed it and began climbing the mountain opposite. This developed into a race in which I was a very bad second and Robert reduced himself to a high degree of tiredness in marching through bogs and swarming up rocks. Eventually, at about 9.5, we reached the top of Derrylooscaunaigh, 1675 ft high, and we were treated to wonderful views in both directions in the fading light. Fading light indeed! We now realised it would be a race against the clock to get down before it was too dark to see. The descent was quite fantastic, as we scrambled down rocks and through bogs regardless. Robert fell over twice, slid many times and went ankle deep into bogs. He also sat very firmly in a bog and wet himself thoroughly. I was not quite so wet. We got into the hostel when all we could see was the hostel light and the moon.
The men's rooms were full, and a French boy from Douay slept on the floor on a lilo. Two more brothers were there, from Nottingham, one an architect with a scholarship under his belt, with glasses and an I.Q., the other an apprentice and a little silly. A bald-headed man from London and our talkative Irish friend. Bed 10.30.
DAY 6 Sun 20 Aug 1961
Kenmare, BALLINSKELLIGS YH
Woke at 8.30 am to a similar day to yesterday. Managed to get a big helping of porridge in the crush and leave the hostel by 9.45 (Robert revolted and had some horrible looking beans burnt in the bottom of a pan and some tomatoes).
Cycled 7 miles along the cart track to Molls Gap, in the face of very strong winds. Along here I waylaid Robert for a photo like a highwayman, he being a good mile behind.
At 11.15 began the descent towards Kenmare, beneath grey, low clouds. I freewheeled 6.35 miles to the road where we turned right for Parknasilla. The wind was still in our face as we struggled along by the side of the famine wall, until we reached the bewitching, wooded Blackwater Bridge. The sea was rather grey, reflecting the skies, and the wind was strong, but the route still held its ild magic. We stopped to have a look at the amazing Fadda Lough, rode through the non-existant Parknasilla, with its lush vegetation and exciting view, until we hit Sneem. Here we bought provisions, and dined in a field opposite the first shops. Then, at 2.30, over the river and into the wilderness. The wind up to the saddle of Eskindloughhoge? was absolutely gale force, and I arrived 20 minutes in front of Robert, who rode up talking to an Irishman. Listening would be nearer the truth, round here their dialect is incomprehensible.
Then down to sea level and through some lovely coastal scenery, and rugged rock-strewn landscapes, keeping pace with a tractor, until we came to Coomakesta. Rain was occasional, and the cloud low and very heavy. I climbed up the good road in 2nd gear all the way, and waited for Robert a long time. The view from the top, usually superb, was unfortunately obscured by the low cloud.
A fast and furious downhill free wheel race followed, and at Waterville we gathered supplies. This was difficult as most of the shops were shut. We had most difficulty with the spuds, which we eventually got at the farm house just along the Ballinskelligs road. Along this road, the wind was very strong (against us, I need hardly say) and fine rain began to fall. We got into the hostel at 6.30pm.
Ballinskelligs YH

.....To find it packed to the roof! A party of Germans had descended upon it, and with a few assorted English and Scots (and some pretty girls), it looked as if we would have to sleep on the floor. However, we grabbed beds and the warden, who remembered me from last year and didn't like Germans anyway, turned a blind eye. Got ourselves a huge meal and went upstairs to examine maps, while outside the wind tried to blow the mountains away, and the rain drifted in sheets.

Managed to get to bed early too, while the storm raged.
DAY 7 Mon 21 Aug 1961
BALLINSKELLIGS YH
Got up quite late today (8.30 am) when the dormitory had emptied itself. Walked up the road to a farm on the right and bought 2 pints of milk. The porridge, with milk, was very successful. As we set out for the ruined church, the sun came out and the day, if windy, was gorgeous.
At the church, surprise of surprises, we found the old skull John [Mounsey] and I had placed on the cross! It had only fallen down, and had been lying there for a year! We looked into several more graves, and Robert entered one and emerged with the head of Patrick O'Sullivan, who died in 1841 22 November, aged 54 years and of Ightereaugh. We knocked out one of his molars, which I have in my pocket as a souvenir as I write this.
Then along the pebble strand, through some braying donkeys, to the old castle, where we messed around until 4.30 pm. A storm developed about lunch time, but quickly passed as we ate lunch inside. We tried a swim, but the water was paralysingly cold. As the sea receded we managed to get to the old pier, where we found an old (dead) dogfish or small shark.
Got back about 4.45, bought spuds, peas, corn beef, oxtail soup, pineapples and had an early dinner. The Hostel is beginning to fill up. After the meal, we went out to the island again, where Robert began to disect the shark (it was a small shark, about 3 ft long, with a row of fearcesome teeth, sandpaper skin and many fin projections). But when he cut into the stomach, and a vile purple-blue liquid spurted out, he gave up and threw it into the sea. We also went some way out to sea along a rocky strand, but had to retreat when tide and weather threatened.
The hostel is about half full. There are several Germans, a Scotch couple (rather nice) and a very talkative American, who was touring Europe (in 2 months) looking for "quaintness". We talked for a long time, planning his route round Ireland and Scotland. He kept us amused far into the night.
DAY 8 Tue 22 Aug 1961
Killarney, AGHADOE HOUSE YH
Got up nearly at 9 this morning, to the usual dull day. I walked up the road to get some milk for breakfast.
Last night we had some strange experiences. Somebody snored in a peculiar way, but stopped just as I was falling off to sleep. Woke suddenly at 3.30, freezing cold, to find my blanket had fallen off (I was in on the top bunk). Woke a few people up getting it, some minutes later, the Yank got up, switched on the light and proclaimed loudly that he was looking for the bathroom. Due to this, I was threatened with st.ep.
Set off, after a breakfast of porridge and beans at 10.30. There was little wind, but what there was was with us. Beyond Cahirciveen, it started to rain, but stopped some 10 miles further on. The run, although not as picturesque as the Southern side of the peninsula, brought back memories. We bought provisions at Glenbeigh, and ate in a field, where it became very hot with many flies. We enjoyed a quart of Cidona each.
Got into Killarney at 4.10, after a very easy day's cycling. Bought stores at the shop at the bottom of hill, and queued for the hostel to open. The hostel was reasonably full but, having booked, we had the newly opened wing, which with its good facilities, was very pleasant. After dinner of salmon, spuds, carrots, tomato soup and pineapples, we set off up the hill for Aghadoe Cathedral.
Aghadoe House YH

Here we absorbed the wonderful view over the lakes and mountains, climbed up the two round towers, and had a look in a grave that happened to be partly open. There were several ladies, and the remains of coffins with silver ornaments (knobs, handles, name boards etc). Kept a bit of silver as a souvenir.

Cycled down the hill into Killarney and had a look round. Bingo was being played even there, under the guise of "Pongo". Robert had a cheap choc ice for 4d. Got back to the hostel as darkness was falling. Wrote several cards, had good wash, and bed 11 pm.
DAY 9 Wed 23 Aug 1961
AGHADOE HOUSE YH
Last night was a pretty lousy one in general. Several hikers, just kids judging by their size, broke all the hostel rules by kicking up a dreadful din in the dormitory, smoking, playing transistor radios etc. After lights out (11.45) the din continued for another 30 minutes. I woke up in the middle of the night again by Robert descending to retrieve his pillow and by a call of nature.
Woke up at 8 am, with the usual resultant st.ep. feelings, and went down to the shop at 9 to get breakfast. We varied our routine this time with corn flakes and boiled eggs - not filling but easier to wash up after.
About 10.30, when the weather looked as if it was going to clear (it had started with the usual drizzling mist), we made tracks for the Gap of Dunloe, taking my rucksac with food and camera. Just before Kate Kearney's cottage, we left our bikes at a farm house on the left, and hired horses for the trip. They cost us (or rather me) 10/- each and we went as far as the Snake Pass and back, about 5 miles or 1½ hours. Robert's horse was a magnificent grey - chestnut, mine a rather down-in-the-mouth black effort and a bit skinny. Mine needed constant encouragement from the rear by means of a blackthorn wand, but I was able to impose my will on him pretty well. Robert's took the hilly cart-track well, but wandered continually, and apparantly at will, to have the odd drink or nibble at the wayside grass. The scenery steadily became more magnificent as we approached the Snake, and the weather wasn't too bad, the clouds being quite high. In sunny weather the Gap must be a magnificent sight. At walking speed, the saddles were comfortable, and the rest from cycling enjoyable - however, when we trotted the agony was extreme, and I just cannot imagine the galloping!
We rejoined our bikes. and went to look round Killarney, and then down to Ross Castle, where we ate lunch on a seat, and regarded the Lakes. Later we got our 1/- worth in the castle by exploring some barred-off portions.
Then along the Kenmare road to Torc waterfall, seeing on the way (just out of Killarney) some fresh young boys in monk's habit - swinging tassels and sandels included. We cycled through lush, overhanging forest to the waterfall, and there clambered among the slippery rocks to arrange for a time exposure of the Falls. Then up the hillside to the little bridge, obseving the wonderful view on the way up. There were a lot of flies.
We bought some stores in Killarney, returned to the hostel, and cooked ourselves an extensive meal of tomato soup, stewing steak, peas, raw tomatoes, bread and pineapples. Also lemonade. After dinner, it began to rain heavily, so we stayed in the common room and planned our route for tomorrow.
After we got to bed, there was the usual row of giggling and light flashing from the load of stupid youths on the other side of the room. At 11.30 I delivered my soliloquy, and that shut them up for the night.
DAY 10 Thu 24 Aug 1961
Listowel, GLIN YH
Woke up at 8 to a Farnborough morning, but it quickly degenerated to a rather ovecast day. After breakfast, I set out for Killarney after having a tiff with Robert about maps. At the cross-roads, I waited for 30 minutes for him, while he apparantly went into Killarney to buy a map (only of Kerry).
We then made excellent time to Trallee, passing on the way an old ruined castle, or a fragment of it anyway. At Trallee we looked round the (fairly) large town [strike processions in Trallee - power-cut crisis], and then took the wrong road to Listowel, taking the country instead. We did a good time to Listowel, where we bought supplies at a shop staffed by a jovial Irishman who insisted that we should both play rugger. Cycled up the hill, and drank a quart of cider each, with bread, jam and chocolate biscuits. Robert killed 10 wasps, I 4 and got stung on the finger by one.
Did slow time into Tarbert, and then into Glin along rather flat countryside. Raced a dog down a hill (he must have touched 30 mph). At Glin, booked into the hostel, then climbed the castle keep, and visited both churches. Had dinner of salmon and peas, bed 11 pm. Hostellers include a chap from York doing S level Chemistry, Biology and Botany.
Glin YH

DAY 11 Fri 25 Aug 1961
Limerick, MOUNTSHANNON YH
Woke up at 8am today, after a nice long sleep. I had porridge for breakfast, Robert fried. The weather was pretty awful, having just stopped raining when I first went out.
We set off at 10.30, faced with a fine drizzle, but a pretty stiff wind bowled us along. Although I put on and took off my mac several times, to the great delight of Robert, we reached Askeaton within the hour, 16 miles. Here we looked round the fabulous Friary, and then were shown round the Castle by the caretaker (the farmer's wife).
At 12.15 I set out for Limerick at an even greater pace, but after about 4 miles, was passed by a creamery lorry going about 23 mph, with Robert hanging on to the back. We did the next 11 miles to Limerick in this style, Robert hanging on and me belting along in the vacuum behind. We got to Limerick at 1pm - an average of 21 mph over 11 miles.
Began to rain in Limerick, so went up a back-street to a fish and chip shop, and had 2 helpings each of fish and chips - very good for 6/-.
Set off again on main road to Ballina, and tacked on to another lorry (a wood lorry). This unfortunately stopped very suddenly after only about 1/2 mile, precipitating Robert over the handlebars into the grass verge, to my great delight.
From Limerick the rain teemed down pretty continuously almost to Tuamgarrey. We stopped at Birdhill to look round the beautiful new Church. Along the Lake drive, we saw an amazing rainbow, very broad and low down over the lake, with 3 other very faint subsidiaries. We tried to to photograph this, but were unsuccessful.
At Tuamgarrey, we stopped for an hour and played assorted Irish at handball in the new court there. Although a cross between fives and squash, it was far from easy and I hurt my hand quite a bit. We played doubles and my side won.
Got into Mount Shannon village about 6, bought food in the shops, had pint of cider each at the bar in the shop. Went to the farm for spuds. The hostel is nice and roomy. Hostellers from Australia, England, Canada and Germany. Our meal was 2½ lbs of spuds, stewing steak, spaghetti and peaches. Robert thinks he cooked the meal extremely well.
Mountshannon YH

After the meal, we went down to the pier, chose a boat, left money (the proprietor was not there) and set out for Holy Island. It was a hard 25 minutes row, but worth it when we got there. The evening was by now most beautiful, with clear sky and stars above, cloud on the milky horizon and a full moon sailing through clouds opposite. We looked at the very old graves (3 inscribed with Oggham), visited the 3 ruined churches, noted the extensive mounds running on top of the island, and Robert climbed (with my help) into the round tower. Rowed back under idyllic conditions at 9.30 pm.

Bed 11 pm, after pleasant hour in the common room.
DAY 12 Sat 26 Aug 1961
Galway, SPIDDLE B&B
Got up bright and early today to be welcomed by a real Farnborough morning. Had jolly good wash, and then we cycled down to the farm and bought milk (still warm) and eggs (3¼d each). We had a big breakfast, and set out along the road with the wind (quite strong by now) behind us and the blue sky above us, at 9.15 am.
By the time we reached Woodford, the skies were leaden and fine drizzle was covering the moors with mist. It was quite hilly between Woodford and Loughrea and the rain became torrential, all exposed parts becoming very wet.
We reached Loughrea at 11 am, and blue sky had established itself again. However, a strong wind was blowing directly into our face, becoming stronger every minute and making the cycle a struggle. By virtue of considerable effort, we reached Galway across flat and wind-swept country, by 1.30 pm.
Galway is a large town - almost a city I suppose, and quite sophisticated. We bought supplies on the far side and ate in a field behind a wall. We set out again at 2.30, by which time the wind was blowing at full gale force, straight down the road. Robert lagged behind, thumbing every lorry for a lift, while I pressed on for Spiddle, our agreed meeting place. The sun shone brightly, bringing out all the beauty of Galway Bay, the rough fields and walls and the blue sea, but the cycling was absolute Hell.
I reached Spiddle at 3.40, 40 minutes in front of Robert. We decided to go on no further but booked into a B&B Guest House (15/- each) and looked round Spiddle. After a sardine-dinner in our room we went down to the rocky shore, Robert ostensibly for a swim. The sun, very rough sea, and wild rocks made an exciting and beautiful sight. Over the street is a Nunnery, and the shore was dotted with black figures, robes flying in the wind. We talked to some, and one said, eyes wide with delight at the scene "who says God doesn't exist after seeing this".
We walked along the shore, getting wet in the process. Robert pushed me into a rock pool, wetting my shoes completely and giving me a bad cut on the shin. With a grin he claimed it was my fault. We watched the sea for some time, then retired to our room. We have two large beds, and a view of the sea - very nice in fact. I hope the wind has abated by tomorrow. A pity we didn't get to the hostel, somebody said it was the nicest in Ireland, but when he was there it was vey full (38/68). Bed 10.30 pm.
DAY 13 Sun 27 Aug 1961
Maam Cross, KILLARY HARBOUR YH
Got up today to a dull and windy morning. Had good wash, drank a lot of the green water, and went down to breakfast. We found that everybody (everybody) had gone to Church. We waited in a deserted dining room until 9.30 before we got our breakfast.
Left at 10.15, headed into the wind again. However, this had abated a little, and shifted a few degrees. The countryside was partly very primitive, with a vast amount of stone walling and little thatch-and-stone cottages dotting the landscape. A typical anomaly however was one neat and clean modern type house, with palms, TV ariel and car outside. There was a certain amount of tourism about, but many of the adverts were in Gaelic. Met a hiker who was wearing plimpsoles and had been sleeping under hedges. A lot of the houses were painted completely sky blue.
After 9 miles, we turned right and bowled along with the wind, through progressively wilder landscape of bogs, hills, peat piles, lakes, heather and mountain sheep. Just short of Maam Cross, we were in country where we could not see a single house.
Looked round Maam Cross, but the Inn was closed. Made tracks for Maam Bridge, across a saddle (326 ft), and Robert reached maximum velocity racing down to Maam. Bought stores at the shop, and ate in a field.
Set off along a long valley, with hilly road and variable wind (usually head on) to Leenane. There we could see the head of Killary Harbour. There were several types hanging about outside the shops (3 of them), but the latter were closed. After an interval with a very friendly dog, we persuaded the shop-keeper to open and supply us. Here we met a Cambridge Research Chemist, on a Lambretta, who told us that the hostel was full with a hiking party, so we made tracks as fast as we could at 3 pm.
After 4 miles of main road, it was necessary to leave on a cart track to the left [right?], but which and where. After 2 false starts, and losing our tempers, we thought we had the right one. However, after about 4-5 miles of the roughest ride I have ever experienced, the track just petered out among bogs and rocks, leaving us with a lovely view of the harbour. We left our bikes in a farm shed (farm empty) and trecked, hot and angry, over about 1½ miles of stoney mountain.
Reached the hostel at 5.45, to find a 23 strong English hiking party there. Fried ourselves sausages, tomatoes and egg (like Quatermass), got ourselves established in one of the last beds, and hurried back over the mountains to collect our bikes before dark (We had found a perfectly good road on the other side of the peninsula). After 1¼ hot wet and sticky hours (and swearing at the flies) we managed to get our bikes back to the hostel. Here we wiped and repaired them, under a cloud of biting midges. We found that the Chemist had got into an even worse mess than we, and reached the hostel at 7 pm.
Went to bed at 10, and when the row had died down in the kitchen (they were frying fish) we had a good, dark sleep.
DAY 14 Mon 28 Aug 1961
Westport, MEWILLIAN YH
This is the day we have both been waiting for. I got up bright and early to find a perfect Farnborough morning, with a strong wind from the South east whipping the water of the harbour into foam. The Ramblers filled the kitchen completely, preventing us from getting out breakfast. We found out jam and margerine gone. and Robert's KFS set (which however we later found). We ate our Rice Crispies in the bedroom, left out plates to be washed by the Ramblers, and set off along the cart-track at 9.15.
The scenery along the "little Harbour" was quite fabulous, the blue sky and sun transforming the scene into one of great beauty. When we reached the main road, we met the Viennese again (who had been at the hostel), and just beyond we found a dog lying in the gutter alive, but seemingly badly shocked. He had been out all night, and must have been suffering from exposure after being hit by a car. We waited until a lorry came by, and loaded the dog into the reluctant driver's cab.
Then on into Leenane, depositing the milk bottle and tightening up Robert's slipped back wheel (we had lost the spanner), and along the Erriff valley at great speed with the wind behind us. The Valley, wooded in places, wild in others, was very beautiful with mountains, grass-sided, on each border. At the Halfway Inn, we stopped for a pint of cider each, and then cycled on, past Croagh Patrick, into Westport. The whole day was very hot, and I'm sure that I have for one become pretty burnt.
Ar Westport I bought two more Kodachrome films, and cycled on into Newport, where we bought supplies from an enterprising little shop, and ate behind a wall. Wasps were prevalent, and made the meal quite an adventure. Then along the Achill road, slowly and under burning heat, to Mulrany, where we bought a tin of meat and received directions (a little wrong as regards distance) for the hostel.
The Currane road was winding and hilly, but very beautiful, running alongside the sea most of the way, backed by very wild and empty country. We bought supplies at Johnny Galagher's (the only shop in the district apparantly) and made for the hostel. This was very pleasant, fronting Mewillian mountain and backed by Achill Sound, behind which was another mountain.
Mewillian YH

Here I received a letter from Mother, giving me my exam results.
[I got a B.Sc in Physics from University College, London with 2nd Class Honours - Ed 2010].

After dinner, Robert went for a swim in the Sound, actually diving into the freezing water. The hostel was full of girls (assorted)

Bed 11 pm.
DAY 15 Tue 29 Aug 1961
Mulrany, NEWPORT B&B
Had very late lie in this morning, getting up at 9. Went outside to get washed in the stream to find the day completely overcast and fine rain driven before a gale force wind.
Had porridge breakfast, and talked to a man who was touring Scotland and Ireland by car with his family. He said that Derrybeg Hostel was closed, but a new one, Poisoned Glen, had opened opposite Mount Errigal.
We were to have spent today as a "rest day" around the hostel, but the hostel is booked to overflowing by the Ramblers for the next few days. Instead, we shall have to stay B&B again somewhere. Robert demands that it be no futher away than Newport.
Set off down the road at 11.15 am with a gale force wind behind us, blowing from the South. (Chased a baby donkey with parents for some time trying to get a good photo). Half way to Mulrany, we turned into it, and had to struggle to get to the village. The day by now was quite nice, apart from the wind, with blue sky and plenty of clouds.
Bought lunch at Mulrany and cycled on to Rossturk Castle. Went down the wrong road at first, which petered out after about 1/2 mile, as is the habit of Irish tracks. The Castle was a dwelling place of some noble family, so we ate on the stoney beach, overlooking a great expanse of flat wet sand. After lunch, Robert went hunting among the rock pools, and found Mullets, crabs, eels (of different sorts), shell-fish etc.
The clouds began to build up, and the wind shifted slightly, so we made hot-foot for Newport, where we made several purchases in the shops. Then we called at "The Bungalow" to enquire about B&B. She said 17/6, that the hotel was 18/6. and tht she knew of nowhere in Newport cheaper. We said it was too much, and cycled on. After some searching, we found "Maryville" down a cart-track near a bay of the sea. Here we had a fine old house (once a farm house), lovely beds, a view of the sea, and a nice homely old lady to look after us, all for 15/-. She talks a lot, about mundane subjects, but is rather sweet really.
We stayed inside until tea, at 6 pm. This consisted of well cooked bacon and eggs and bread. She also has a rather hysterical sausage dog.
After dinner, we went for a look round the town, visited the new Church, and talked to a priest while watching a game of handball. An All Ireland Finalist (Minor) was playing. It began to rain and the wind was still blowing hard, so we went back and read. Bed 11.15
DAY 16 Wed 30 Aug 1961
Ballina, EASKY B&B
Got up early today, to a blue sky and a high wind. We went down to breakfast, quite a good fried one, and listened to the usual rigmarole from the old lady. Loaded things onto our bikes, the old lady gave us 2 boiled eggs each (+ salt), and said goodbye, with the hysterical sausage dog wriggling round us.
Set off down the road with a high wind behind us, and raced towards Nephin, a shapely mountain. Just before the first cross-roads, the road lost its surface, and remained dirt and stones all the way to Crossmolina. We took the saddle "road" between Nephin and its outlier.
Outside Crossmolina, Robert just missed some beggar children, blocking the road in front. Made it hot foot to Ballina, where we stopped at a shop just over the bridge and bought supplies. Cycled on up a hill, and ate in a field.
When we left, it was only 2 pm, a few miles from Easky, so we cycled on slowly. Just beyond our eating place, we found an old standing stone in a field (which Robert promptly climbed up). We looked for 2 castles en route, but could not find them. Just outside Inniscrone, we had a look round a deserted and decrepid hotel, which in its heyday must have been quite a place (I think this was Scurmore House). At Inniscrone, there was a fabulous beach, with huge waves and backed by sandhills. Here we had an exhausting but exciting swim.
I think that I lost my diary on Wed 30 Aug 1961 somewhere in the vicinity of Enniscrone beach. It was returned to me on Sat 16 Sep 1961 by the Sergeant, Enniscrone Garda Station (Garda Siochana, Enniscrone Station, Ballina district, Co Sligo) after being handed in by a Miss Margaret Sheppard, 16, Ingleclete Rd, Liverpool 18 who "found it while on holiday here early this month". I have written to both persons concerned. Miss Sheppard received a box of chocolates.
[I remember Miss Sheppard saying in her covering letter that she found the diary "very interesting"]
Cycled into Easky, and found that the Hotel Seafield was a pretty grand affair, and our stay will probably cost the Earth. We signed in, had room No 10, and had a good dinner of spuds, steak and ice cream.

Then we went off to look for the Split Rock. We found only two ways up. I developed a puncture which annoyed me considerably. Did I but know, this was just the start of my misfortunes. Then down to the road to look round the castle and pier, with super rough sea. I returned to mend puncture, while Robert looked round Easky. After completing repairs, I cycled to Easky for a few things to eat. When I got back, I found that I had lost my diary. We searched in vain, and I got into a furious temper. These notes may have missed a few things out, its just my state of mind.
DAY 17 Thu 31 Aug 1961
Sligo, BALL HILL YH
Had breakfast at 8.30 today, and packed things on our bikes beneath a blue sky. Robert cycled down to the Post Office twice, and eventually I found the postman, on a bike, with our parcel. We changed our clothes, and cycled along with the parcel for about 4 miles until we came to a Post Office. [I think the parcel contained fresh clothes from Mum, we posted back the used ones for her to wash!-Ed 2010].
The fast time to the pretty Ballysadare. here we turned left and rode through the Carrowmore area, looking for hints of the ancient monuments etc.
Through Sligo, looking unsuccessfully for a fish and chip shop and to Drumcliffe, where we looked around the Round Tower, Church and W.B.Yeats' grave. At Grange (from where we had a lovely view of the fabulous, mesa-like Benbulbin) we purchased lunch, and cycled down to the strand bay, at Stradreagh. Here we ate and sunbathed all by ourselves (for most of the time). Robert tried a swim, but it was very rocky, though warm. We found lots of marine life under the rocks.
Set out again at eactly 4 pm, and went at a terrific pace into Donegal. I got to Bundoran at 4.30 (11 miles - 22 mph) and Donegal at 5.40 (30 miles in 100 minutes - 18 mph average).
After this we felt pretty fagged, so bought spuds, meat and sugar in Donegal, and cycled down the track to the lovely hostel.
Ball Hill YH

This was not very full. We saw sunset from the flat roof, cooked ourselves a good meal, and at 9 pm went for a swim after fun and games on the sandy beach. Bed 11.30.
DAY 18 Fri 01 Sep 1961
Killybegs, CARRICK YH
Got up at 7am today, and went to watch the early dawn from the hostel's flat roof - a lovely sight as the sun rested on the hills, and the early morning stillness in the air.
Had a good breakfast of porridge, when Robert eventually got up, and took a photo of the hostel.
Left about 10 am, and decided on a slow pace to Carrick having a good look round on the way. At Mountcharles, with great exertion, climbed the terrifically steep hill, but had a lovely free wheel down the other side. The day is now very pleasant, but rather overcast with a great many insects floating about.
At Inver, we left the road, and went to have a look at the Castle just to the South. Only one wall remains standing (which Robert found too dangerous to climb) but the situation is wonderful, perched on the edge of the sea by some flat, sloping rocks. This was good hunting ground for crabs, but there were many flying ants in the air.
At Dunkineely we paused to have a look at the round tower and new Church (Robert played the organ). Bought provisions at Killybegs, and ate at the top of a pretty steep hill just outside. We attracted the attention of 2 dogs, who barked themselves insideout. A pretty, Scottish-like, fishing harbour in Killybegs. Then on through progressively more lovely countryside. Stopped at Fintragh Bay for a swim (Robert having left his shorts and towel at Ball Hill, borrowed mine).
After Largy, left the main road, and went through some fantastic countryside until we got to Kilcar. We did not visit the caves, but satisfied ourselves with the hilly road and scenery, and the marvellous Muckross Bay, with its huge rollers and unblemished sandy beach.
Then on over the hills to Carrick, under greying skies, and lovely scenery. Signed in at the hostel (there were only 4 of us), got myself a double bed, and went to have a look round Carrick.
Carrick YH

While Robert, who was very tired, slept on his bed, I rode down to the pier, saw some fishing, and climbed over the rocks to the headland. I stayed for about 1/2 an hour, watching the swell smash into the black rocks.

At 8.45, we went to the Fish and Chip Cafe, and for 8/- had double helpings of the same, very good. Back at the hostel, we had a tin of peaches. Bed at 10.15 pm.
DAY 19 Sat 02 Sep 1961
Slieveleague, CARRICK YH
Last night was quite exciting. We were woken at 2.30 am by a terrific thunderstorm, with lightning flashes for half an hour, peals of thunder, people and animals running about and tons of rain hammering on the tin roof of the hostel. Woken again at 5.30 am by even heavier rain.
Now at 8.30, the day looks quite pleasant again. After a breakfast of cornflakes and eggs, we cycled down the road, and up the track as far as we could. We left our bikes in a derelict cottage, and walked for a mile or so until the track petered out near Bunglass Point. The scenery became more and more spectacular until suddenly - WHAM - we saw the fantastic great cliffs of Slieveleague, with mist pouring over the 3 mile ridge like some gigantic waterfall. We followed the One Man's Path up and up, the ground around us becoming narrower and narrower. The scenery is beyond description - it must be seen to be believed, but I have many photos of the great 2,000 ft cliffs plunging into the sea. Eventually, after about 2 miles or so, and by now shrouded in mist, we reached two dangerous knife edges which led us onto the summit, past 10 cairns. At the final one, on the summit, surrounded by mist and a howling gale and with occassional glimpses of the sea 2,000 feet below, we ate dinner under our capes.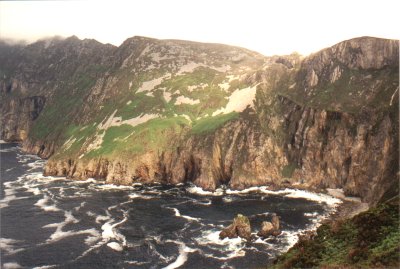 On the way down, the mist suddenly cleared, revealing the most thrilling views I have ever seen in my life. Remembering the poem, we found references to many real things: the airy mountain, rushy glen, black mountain lake and frogs (see later). All the way down we were regailled by views. Near the cart-track, the heather was crawling with frogs, and Robert had great fun chasing and catching them.

We went to Bunglass Point, looked round the castle and Coast Guard lookout point, and spent an idyllic hour there in the sun, with a marvellous view, dissecting frogs and throwing stones off the 400 ft cliff.

Then we had a look round Carrigan Head before returning, weary of limb but light of heart to the hostel. We were the only people there that night.

Had our usual double helpings of fish and chips, and bed 10.45
DAY 20 Sun 03 Sep 1961
Ardara, POISONED GLEN YH
Heavily overcast today, threatening rain which never came. After a porridge breakfast (much to Robert's disgust - the milk was bad and the taste lingered in his mouth for the rest of the day), and a talk to the warden, we set off up the hill at 10.30.
The long climb through the Glengesh Pass - 900 feet was quite easy except for two very steep sections right at the end. Church goers gathered on roadside, men on right, women and children on left. The scenery was not very spectacular, and mist descended over the last few hundred feet. Robert was eager for the famous test hill descent, which was pretty spectacular, but left his bike - unintentionally - on the very first bend. There were two very fierce hairpins following, and a very steep stretch on which Robert reached 50 mph - he says.
At Ardara, we paused to watch the people pouring out of Church (we saw this everywhere), listen to a selection from Carmen pouring from the boot of a car, and have a look at St Pat in a glass case there. Then down the link road, and along a minor road (which deteriorated into a terrible cart-track) to Maas (pronounced Morse).
A very hard ride followed over rolling hills into Dungloes, where we bought lunch at the top of the very steep main street. After dining on the road verge, we ambled into Gweedore through pretty good scenery.
Over the last 6 miles to the hostel, the peculiar nature of the district developed. An absolutely terrible tarmac road surface. A brand new bridge and aquaduct. Spurge-ridden water (Rob developed a sore throat from it). A church built of quartz and looking like a rocket base. The fantastic cone of Errigal (sheathed in cloud). A hen house for a hostel. A horrible old hag for a warden, brewing poteen at night. And finally purple potatoes.
Poisoned Glen YH

The warden gave Robert 20/6 and a sleeping bag for a pound, and forgot the overnight fees (we insisted however). We messed around until 7, cooked a good meal, and went to bed at 10. One other hosteller - from Sheffield.
DAY 21 Mon 04 Sep 1961
Creeslough, TRA-NA-ROSAAN YH
Got up at 7, and managed to see the top of Errigal, before clouds descended and a thin drizzle began to fall. We had porridge and treacle, and set off at 10.15, before the warden could start talking to us.
Poor woman, she may have been ill. "Brigid McClafferty died 30th Sept 1961" - grave in Dunlewy. An occupier of the house in 1991 told me: "Biddie McClafferty used to run the place as a guest house in the 40's and 50's, but her brother died, she got old and the place went down hill. She offered it as a Youth Hostel, but she died of a heart attack on 30 Sep 1961. She spoke very fast."
The road, (with very rough tarmac surface) climbed up the side of Errigal for about 800 feet, and suddenly became a cart-track. We continued on cart tracks for the next 12 infuriating miles, along what should have been a link road. As compensation, we saw some lovely scenery (when the low cloud allowed) and a dead badger. Just before Creeslough, we hit a good tarmac road, and took this to Doe Castle, which was worth another mile of cart-tracks.

Then cycled into Carrigart and bought lunch and dinner (I passed a policeman 6 times, going in and out of Carrigart). We ate on the dunes, and cycled on to the lovely hostel of Tra-na-Rosann.
Tra-na-Rosann YH

Its situation is lovely. Nestling against a hill, it commands views of two magnificent beaches, and numerous sand dunes and flat grass plains. We explored around until 7 pm, spending most of the time climbing at the fabulous Murder Hole.

At 7, fried ourselves the biggest dinner at a hostel I have ever had. Nearly killed me.

Later on, just before bed, had an argument.
It was a full-blown argument, which the warden tried to stop. I wanted to finish the Circuit of Ireland, Robert wanted to go home. Eventually I accompanied him home through Larne.
DAY 22 Tue 05 Sep 1961
TRA-NA-ROSAAN YH
Had a rather restless night, after much creaking on the canvas beds. Got up quite late and Robert cycled into Carrigart and back (11 miles) to get some treacle while I climbed the hill for milk and got the porridge nice and thick. The weather, which has been pretty lousy, cleared up for a bit and decided us to stay at Tra-na-Rosann for the day.
After a good breakfast (in my opinion - in Robert's lousy), I climbed Crocknasleigh, while Robert went to the beach of Tra-na-Rosann Bay. From the top, by the cairn, a wonderful view was obtained in all directions. I saw another wonderful beach at Boyeeghter Bay (there were "dozens" around me), and climbed down to it while Robert returned to the last beach to fetch his haversack. It was a difficult and slippery climb down to Boyeeghter Bay, but once there, I found the beach and setting beyond this world. The water, although cold, was rough, blue and with big waves. The red and gold sand, 100 yards deep, 400 yards long and absolutely flawless, was bordered by great, red and rugged cliffs, made of limestone of the finest quality, almost like marble to the touch. If this beach were in Italy, it would be a wonder of the world.
I waited on the beach for an hour for Robert, having a paddle, talking to an Irishman (there was no one else in sight in this great expanse of beach and cliff scenery) and writing my name in huge letters on the beach.
While I climbed up the cliffs again, looking for Robert, he descended to the beach, having just recovered from a fall off a low cliff onto his patella. He seemed to be "all shook up".
At 1 pm, we cycled to Downings, and ate on the edge of the road, with a wonderful view over Mulray Bay. Then while Robert slept, I did the tortuous bet scenically terrific Atlantic drive, 10 miles, a little gem.
The weather closed in at 4, so we returned to the hostel, talked to the warden (a rather sweet little woman, with a very nice husband), and cooked ourselves a good boiled dinner. Wrote my diary by lamp light while listening to radio Luxembourg, and bed 10.30 pm
DAY 23 Wed 06 Sep 1961
Derry, STRADREAGH YH
Tried to get up early today, but after talking ro the warden and getting a good porridge breakfast, it wa 9.45 before we began. The weather was foul, high wind, drenching rain, hot sun, clouds and clear blue sky following each other in quick succession. We had to do some quick changes with our cape, and I got into a bit of a temper against things inanmimate.
For the first 15 miles, the scenery was quite pretty, but the weather prevented a favourable precentation. The wind was behind us most of the way, and we got to Derry (50 miles) at 1.30 pm.
We crossed through the Customs, who were rather abrupt but quite disinterested, and almost immediately came upon th industrialised city.
The change was most abrupt. The smells in the air were most noticeable, after 3 weeks in the country, the traffic, general grimness, purpose and well-being of the people contrasting startlingly with Donegal. The weather was foul, but we found a cafe open, and had a reasonable dinner for 3/6 each.
Set off again along drying roads (but in a freezing wind) for Limavady, where we obtained £10 at the Post Office, details of the steamer service at the station, and groceries at the shops.
Found the hostel (rather neat and the smallest yet - after a stiff climb into the hills from the plain. The warden lived 200 yards away, and was another talkative woman.
Stradreagh YH

We established ourselves, planned tomorrow (and an early start- we hope) and boiled a jolly good dinner. Three girls arrived later, making 5 people in the hostel. Bed very early
DAY 24 Thu 07 Sep 1961
Larne, Stranraer
Woke up at 6.45 today, at same time as Robert, and we got up straight away (much to the annoyance, perhaps, of the other chap in the dormitory). In the early hours of this morning, I had to get up and go crashing through a series of doors to find the outside.
The weather doesn't look very promising at the moment - very heavily overcast and fine rain. We had a marvellous breakfast of porridge, milk and treacle ad nauseam. What we couldn't eat we will have to leave behind. We have already collected our cards (the night before) from the very co-operative warden.
Left the hostel at 10 to 8, the earliest I have ever left any hostel. As we climb the hill towards the summit, we can see good weather and the rising sun glowing on the other side like the promised land.
After the climb, a good run down into Coleraine with rapidly clearing skies. Just outside Bushmills, at East Park, 5,000 miles up. Found our way to the Giant's Causeway by 9.30, and parked our bikes at the end of the road. The weather is now perfect, with a good strong wind from the NW which will come in useful very soon.
Walked down the cliff path to the GC, paid our 1/6 each, and got in (The GC is heavily fenced off from the public, but can be by-passed at low tide). The Causeway, about 40 x 100 yards in the main, is a spit of land that stretches into the sea, composed of thousands of "organ-pipes" of dull black, rather depressing, basalt rock. The number of sides of the organ pipes varies from 4 to 9, with one example of a 3 sided pipe (which we could not find). The sea was in fine form, big foaming waves on both sides, the rush glitter and sparkle of the white horses contrasting most spectacurly with the dull inert mass of the Causeway.
Left at 10.30 am, and cycled along the beautiful White Park Bay before turning turning right into the hills with the wind behind us. When out of the sun and not climbing hills, I was cold in my shirt, so there was some changing in and out of my Hobo suit. A good cycle down from 529 feet into Ballycastle, where we had some fizzy drink. Suddenly got cloudy and cold. Wind unchanged.
Out of Ballycastle, past a golf course, and up into the hills, with rather good "immature river" scenery on each side. The higher we rose, the more beautiful the scenery, with heather, rolling hills, streams and great conifer plantations. Although 836 ft high, the hill was easy (on this side). There followed a spectacular descent, across the neck of a valley into Cushendall, where we bought provisions for Lunch. We ate just off the main road, on a hillside beneath a ruin on the summit. From our position we could see Scotland and Ailsa Craig.
After dinner, there followed a delightful ride along the fabulously engineered Marine Road into Larne. The Drive begins and ends with tunnels (very short though) and from the North end the great chimneys at Larne can be seen, trailing smoke. When the road runs past headlands, the scenery is much like the Wears of Portland. Robert climbed a peculiar rock half way. The wind was behind us all the way, and the road almost dead flat the whole way. We got into Larne about 3.30 with 5060 on the dial.
As we cycled into Larne, we noticed the great chimneys we had seen from Cushendall, and the round tower on the groyne end. Found our way down to the docks, and bought tickets straight away 88/- and 17/5 each. I changed into my long trousers, got cleaned up a bit, and then we decided to go and watch a picture until the boat sailed (6.50 pm). We found the only picture house closed, so crossed the bridge into the grim, industrial side of Larne, and ate at a fish and chip shop. I had 2 helpings of fish and chips, Robert one of fish and one steak and kidney pudding (a little small, I thought). It cost us 7/- together.
We loaded our bikes onto the ship, and sailed at 6.50. We had jolly good seats in the stern. The view from on deck, as Ireland faded out of sight, with a good rough sea, sun, blue sky and very strong wind, was quite superb, and one I shall never forget. However, it was pretty cold, so we went below soon.
Next to us was an Irish family (rather poor) with about 6 children, running and climbing over the seats, our luggage and everything else in sight. Robert left, and found a soldier to talk to on deck. The crossing was over very quickly, with interesting buoys passing on our entry into Stranraer (8.55).
We organised our disembarkation with military precision, to get a good seat on the train in the rush. Robert took the luggage, while I took the bikes.....
DAY 25 Fri 08 Sep 1961
London, Twickenham
....We had a compartment to ourselves for the next 11½ hours, until we got into London (Euston) at 8.20 am. The trip was very long, but we passed through some interesting places, and kept up a good speed.
When we got to London, bought Mum a present (a very expensive travelling clock, it being her birthday today) before braving the traffic maelstrom back to Twickenham. So ended our Second Irish Holiday
Planned, cycled, written, typed, formatted, hyperlinked, encoded, and copyright © 2010, . All Rights Reserved.