| | | |
| --- | --- | --- |
| Updated 27 Jan 2014 | Electra and Mercury House | |
<!==================================================>
Electra and Mercury House
CBP's Places of Work, then and now (2010):
Electra House, Moorgate now London Metropolitan University.
Electra House, Embankment now British American Tobacco.
Mercury House, Holborn now Mediacom.
Any reader with possible connections or enquiries please
contact:
Thanks for the photos to Derek Voller.
Electra House senior, Moorgate
Snippets about Electra House senior
The recent external refurbishment of this Grade II Listed building, dated 1903, is the third major contract completed by Triton as Main Contractor for the London Guildhall University. Combining 12 specialist restoration and ancillary trades, all works were carefully planned before commencement on site to ensure completion within a tight contract programme and minimal disruption to the occupants. The original Electra House, at Moorgate, London, was opened in 1902 and became the accommodation for the Eastern and Associated Telegraph Companies. Housed in two rooms in the basement was the company's London training school. To the ornate front elevation, the Portland stone was cleaned using water sprays. The JOS air abrasive system was used for ingrained dirt and poultices and for the removal of deep seated copper stains. New carved stone sections included replacement scroll brackets, lions' head motifs and indents to the ashlar, with in-situ repair used for minor spalls. Old gel strip bird repellent was carefully removed and cleaned from ledges and replaced with a stainless steel wire system. Major repairs were undertaken at roof level with the installation of Purlroofer insulation, renovation of the rooflights, complete renewal of the asphalt and provision of new Code 8 lead to the cornice and weathering details. A new Keeclamp handrail was then installed to enclose the fire escape route. All doors, windows and metalwork to the main elevation were fully refubished and repaired prior to the redecoration of all previously painted surfaces. The original design for Electra House had 8 lions on the Moorgate side and 4 on the side street, a total of 12 and there are 12 lions on the cupola.
From "Public sculpture of the city of London" by Philip Ward-Jackson. "Young Atlases with Armillary Sphere and Zodiacal Globe" Sculptor: F.W.Pomeroy. Material: Bronze Four naked boys support the massive hollow form of the armillary sphere, within which a solid globe is suspended. The Zodiacal signs are represented on a bronze band encircling the sphere. For F.Herbert Mansford, Pomeroy's ring of boys recalled "those of Galileo's lamp at Pisa" Notes: [1] Electra House. The New Home of the Eastern and Associated Telegraph Companies, London 1902, p4 [2]Builder's Journal and Architectural Record, 20 Aug 1902, p3
Other photos of Electra House, Moorgate on Geograph: University | Globe | Window 1 | Window 2
Electra House, 84 Moorgate, London 1902-41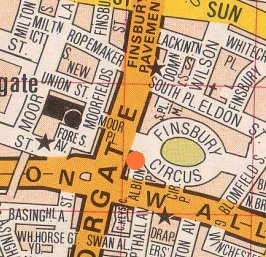 M1

M4

M5

M6

M7

M8

Electra House junior, Victoria Embankment
Snippets about Electra House junior
Electra House, Embankment, had a secondary purpose, for secret conduits were laid to here from the Central Telegraph Exchange at Moorgate, which monitored the telephone lines of every foreign embassy in London. If Moorgate was damaged, then Electra House, which accommodated a staff of one hundred cable sensors, could take over. On the west is Electra House, which was erected in 1929, on the site previously occupied by Bodley and Garner's London School Board Building. Electra House is the Head Office of Cables and Wireless Ltd., and has a pleasing facade, for which Sir Herbert Baker, R.A., was responsible. A good view of the exterior of Two Temple Place is obtained when approaching from the west side, Electra House having been set back some distance from the edge of the pavement. One July night in 1944, a V1 crossed the river and hit the second floor of Electra House on the Embankment, with two staff members killed by rubble crashing into the underground shelter. By 04.10, four hundred night staff were back at work in the debris under generator power. This disturbance went unnoticed by overseas terminals, but the Moorgate office and landlines suffered violent disruption on several occasions in the Blitz, bringing 12 Hamilton Road into use.
Electra House, Victoria Embankment, London 1933-55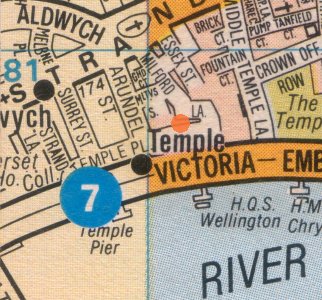 V2

V4

V5

V6

V7

Mercury House, Holborn
Snippets about Mercury House
Mercury House was designed as a HQ for Cable & Wireless in 1955 by Gordon Jeeves. Mercury House is an office building at 124, Theobalds Road, Holborn, London, and has been headquarters to Cable & Wireless from 1955. It was opened by John Major in 1993 and was named after the Roman god. The architect was Gordon Jeeves. The interiors were designed by H C Upton, Cable & Wireless's own architect. The three glass panels in the entrance were the work of John Hutton. Since December 2006 the building has been home to MediaCom. In 1933 the administrative division of Cable and Wireless moved to a separate building on the Embankment, while the operating division remained in Electra House. But after Electra House was bombed by a V1 in 1944, both divisions occupied the Embankment building. In 1955 Cable and Wireless moved in toto to its current home, Mercury House in Theobalds Road. Electra House survived the bombing and in 1944 became the home of the City of London College and is now part of London Metropolitan University
Mercury House, 124 Theobalds Rd. London 1955-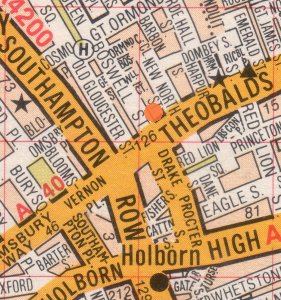 H1

H2

H4

H6

----Anyone with more details for publication on this webpage, please email ----
------------------------
Geoff Boudreau writes

Dear John,

I read the Electra House(s) information on your site with interest, especially relevant to me as an ex OTO. I just wanted to correct one point, in the 1944 Victoria Embankment V1 bombing there were actually three people killed. Having just seen the original handwritten reports from the time at the Westminster Archives there is no doubt on the number of fatalities.

Regards
Geoff Boudreau
Compiled, formatted, hyperlinked, encoded, and copyright © 2010, John Palmer, All Rights Reserved.